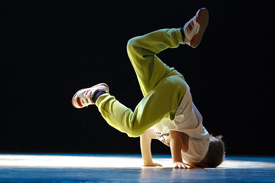 The Space recently commissioned the live stream of Rosie Kay's acclaimed dance show 5 SOLDIERS, kicking off its national tour of army barracks. As a result, the streamed performance from a working Army drill hall in central London was brought to a whole new audience. It was commissioned as part of The Space's mission to use digital technology to bring great art to wider audiences, and viewers around the world experienced 5 SOLDIERS through YouTube, Facebook Live and on the internet with distribution partners including Sadler's Wells, The British Army and BBC Arts Digital.
5 SOLDIERS – The Body is the Frontline arrived in London fresh from an award-winning sell out run at Army@TheFringe – the Army's first ever Edinburgh Festival Fringe venue. Its portrayal of the lives and experiences of a female and four young male soldiers as they undergo training and are deployed in the middle of a brutal conflict has been applauded, and seen it awarded four and five star reviews. Kay undertook detailed research to create 5 SOLDIERS, joining The 4th Battalion The Rifles and experiencing battle exercises on Dartmoor and Salisbury Plain. Kay then visited a military rehabilitation centre, and the dancers underwent military training exercises.
The live stream took place on 8 September ahead of a national tour, in association with the Army. It began with three performances presented in partnership with Sadler's Wells at the drill hall at London's Yeomanry House. It will always also include a post-show discussion where the audience will be able to put questions to a panel including Lt Gen James Bashall CBE, choreographer and creator of the show creator Rosie Kay, Sadler's Wells Artistic Director and Chief Executive Alistair Spalding and Observer dance critic Luke Jennings.
5 SOLDIERS works to get beyond the uniform of British soldiers, to humanise their stories and experiences. The live stream has meant the piece has reached new audiences with a humanistic portrayal of war; complex, uncomfortable, impassioned and truthful. The national tour will give the public the chance to see 5 SOLDIERS performed at drill halls and Army barracks across England, and then take part in Q&A sessions. It will reach Hull, Aldershot, Swindon, Colchester and Birmingham.