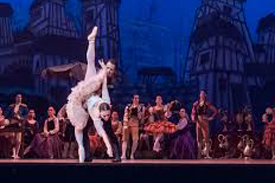 English National Ballet School recently announced it would be appointing Carlos Valcárcel as its new Director of Dance from October 2017, following the departure of Samira Saidi.
Born in Spain, Carlos Valcárcel began his studies at Victor Ullate School and María de Ávila Ballet School under Lola de Avila and Ana Baselga. Following an illustrious performing career where he danced principal roles with Victor Ullate Ballet, Balletto di Toscana and Stuttgart Ballet, Valcárcel became Director and principal teacher of his ballet school in Madrid before joining the Showa School for Performing Arts in Tokyo. At the Showa School, he was the Principal Tutor and Lecturer of the Ballet Department. He later joined The Washington School of Ballet, teaching, mentoring and choreographing students and dancers from the company as Ballet Master of the Trainee Programme.
Valcárcel has big shoes to fill at the school, but his varied and extensive experience will set him in good stead for his tasks ahead. He has also been credited with coaching principal ballerinas and has served as a judge of international ballet competitions, in addition to choreographing pieces and coaching participants for elite competitions. In terms of his most recent experience, Valcárcel will join English National Ballet School from Ballet Arizona where he has been Director of its School since 2011.
There are exciting times ahead for the school, with the impending move to purpose-built facilities in East London which will provide a fantastic opportunity to expand its position within the dance world, as well as further its collaboration with English National Ballet and its artistic leadership. The School prides itself on being the official school of English National Ballet, with one third of the Company's dancers having graduated from the school.
Valcárcel is said to be excited and committed to preparing the next generation of young professional dancers for their careers, training dancers for the future. He will bring much energy and experience to the role.