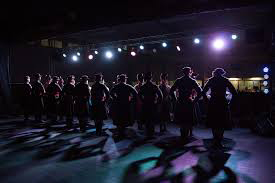 DanceXchange, the Midlands-based dance house, recently announced its latest performance season, running from 22 September until 2 December 2017. The new season sees DanceXchange present performances that are inspired by the science of the sun and the magic of the moon; an exploration of the cathartic power of dance, the enduring link between dance and music; and stories of womanhood and community.
The programme begins with Alexander Whitley Dance Company's critically acclaimed 8 Minutes. Following a unique collaboration with scientists from STFC RAL Space, the piece sees Whitley take inspiration from solar science research, in particular the fact that it takes just eight minutes for sunlight to travel 93 million miles to earth. With an installation of high-definition imagery from visual artist Tal Rosner, and a specially created score by electroacoustic music innovator Daniel Wohl, 8 Minutes takes the audiences on a journey through the universe.
The Head Wrap Diaries by Uchenna Dance sees three fierce, clever and witty female characters share stories of community, heritage, womanhood, friendship, and most importantly, hair. Set within a South London hair-salon called BE U Tiful, The Head Wrap Diaries immerses audiences in a personal journey from childhood to the present day, told through a unique blend of House, Waacking and Vogue fused with African and Contemporary dance. It is accompanied by a commissioned soundtrack of Afro house, folk, electronic dance music, jazz and Ghana gospel.
The season culminates with a world premiere of 2Faced Dance Company's What The Moon Saw, a brand new dance and circus performance for little ones and their families. This interactive re-imagination of Hans Christian Andersen's classic tale will delight, excite and charm audiences. Designed as an immersive experience, audience members are invited to join in the fun and come dressed in their pyjamas.