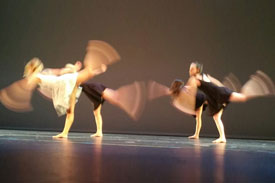 Held across Birmingham from 16-22 October, the Fierce Festival line-up has been announced for 2017. The international festival of performance will present live art, theatre, dance, music and installations, taking over Birmingham whilst exploring themes as diverse as the rituals of clubbing, mental health, "fandom" and fan art, and climate change. The 2017 programme contains fifty events with five world premieres, twelve UK premieres, with artists hailing from ten countries across four continents.
The Festival is billed a wide snapshot of some of the most exciting performance being made in the world today, a fresh, exciting programme for a young, diverse city, taking in everything from immersive dance shows, new performance art installations, and late night cabaret. Many of the artists will be making their UK debuts, including a trio of Canadian works curated in collaboration with Studio 303, Montreal; Adam Kinner and Christopher Willes' Listening Choir which invites festival-goers to walk through Birmingham listening to an altered sonic landscape of the city; and Andréa de Keijzer and Erin Robinsong's performance This ritual is not an accident.
Further highlights include American cabaret star Erin Markey with a late night show; a hula-hooping endurance test by Francois Chaignaud and Marie-Caroline Hominal; and – in catering for younger audiences – Ant Hampton's interactive installation Crazy But True in collaboration with Birmingham Repertory Theatre's The Young Rep. Staged at mac Birmingham, the piece will invite children between 7 and 11 to form a rolling panel of experts on Sunday 22 October as a free event. A text is whispered to them via headsets and they repeat what they hear, as they hear it. No rehearsal is required and children can come and go as they please.
Returning for its 17th edition, Fierce will take place across Birmingham with events in Fierce's brand new Festival Hub in Digbeth, Birmingham Repertory Theatre, The Patrick Centre, Birmingham Hippodrome, Birmingham School of Art, STRYX, ACE Dance and Music, mac, Birmingham Museum and Art Gallery, AE Harris and the new Birmingham Conservatoire, as well as various outdoor locations.