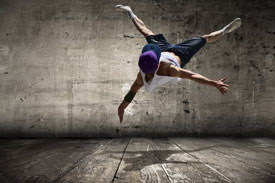 Cirque Éloize, a world leader in contemporary circus, is heading back to the West End with the UK premiere of its new show, Saloon. Running from Wednesday 4 – Saturday 21 October at The Peacock, the show is inspired by the rich legacy of the Wild West. Saloon showcases the company's trademark blend of spectacular circus and drama to create the colourful characters swinging through the saloon doors and delighting audiences.
Directed by Emmanuel Guillaume, Saloon is full of infectious energy and phenomenal physical feats: the 11 cast members will perform a theatrical thrill-ride of foot-stomping, lasso-throwing entertainment as a step past its previous work. With a soundtrack of non-stop live folk and country music, from Patsy Cline to Johnny Cash, and original compositions by celebrated Canadian composer Éloi Painchaud, the production is clean shift from its circus work, incorporating a different style into its repertoire.
This creation marks the first collaboration between Cirque Éloize and the show's musical director, Eloi Painchaud. Saloon mixes country extracts with more festive, folk-inspired compositions, with three musicians and singers on stage; all the artists sing or play instruments. For the most part, the company has made its mark specialising in creating shows that fuse circus arts with music, theatre and dance.
Cirque Éloize was founded in 1993 by artistic director, and Eloi's cousin, Jeannot Painchaud. Cirque Éloize has been creating award-winning entertainment content for nearly 25 years and ranks among the world's leading contemporary circuses. Cirque Éloize has performed as part of numerous prestigious international festivals, and on New York's Broadway and in London's West End. Its productions are crafted for a wide range of audiences and have been embraced by over fifty cultures. In the last 24 years, Cirque Éloize's shows have seen more than 4,000 performances in over 500 cities, by over three million spectators.