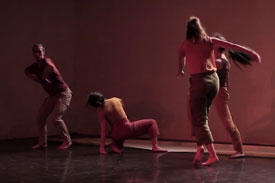 Rambert is to tour two new dance works around the UK, performed alongside treasured favourites, some of the company's best loved work. The company will welcome commissions from Andonis Foniadakis and Ben Duke, and it will present large-scale contemporary dance works across the UK. This tour will see the first time the company has been to Southampton since its last performance at the Mayflower Theatre in 1992.
As part of the tour of Britain's national dance company, Ghost Dances will feature. Originally created for Rambert in 1981, Ghost Dances is Christopher Bruce's response to political oppression in South America, and has returned to the company's repertory for the first time in 13 years. Ghost Dances depicts stories of love and compassion, as death – in the form of the iconic 'ghost dancers' – interrupts the daily lives of a series of ordinary people. Set to Latin American folk music, the piece makes visual reference to the Day of the Dead.
Choreographer and Director of Greek National Opera Ballet Andonis Foniadakis will create a new work for Rambert which premieres in September at The Lowry, Salford. Known for his technically detailed dance works full of energy and power, this is Foniadakis's first piece for the company and features a newly commissioned score. Award-winning choreographer and performer Ben Duke also presents his first work for Rambert in October at the Festival Theatre, Edinburgh. This new work is inspired by the music and spirit of Nina Simone, with a selection of her best-loved songs performed live onstage. Duke's work explores the overlap between dance and theatre.
These works will form part of programmes presented at venues in triple bills alongside three other works including Aletta Collins's The Days Run Away Like Wild Horses, which premiered at Sadler's Wells in May, her third work for the company. Also being presented on tour are Itzik Galili's riotous, samba-fuelled party piece A Linha Curva (2009, revival: Mikaela Polley, 2016) and Kim Brandstrup's National Dance Award-winning romantic drama, Transfigured Night (2015).