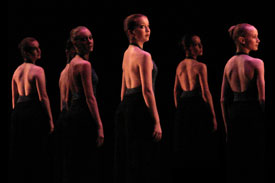 Kate Bryan, Tamara Rojo and Elizabeth Freestone are among those joining a scheme to help nurture the next generation of women leaders in the arts, through University Women in the Arts. It is a new scheme to mentor the next generation of female leaders, launched earlier this year at Drama Centre London at Central Saint Martins.
The scheme will offer 10 female university students in the UK, at foundation, undergraduate or postgraduate level, the opportunity to meet and be mentored by some of the leading women in the UK arts scene, including the three aforementioned women. It is clear the industry needs women to enter the workplace with ambition, and knowledge of the challenges they may face, so the scheme is vital in helping women prepare for leadership in the arts.
There is much gender inequality in leadership, so immediately there are challenges in attaining jobs and promotions. Ahead of this however, there are challenges in the cost of attending university, and gaining valuable work experience following this, often unpaid. Without measures to support all graduates from less wealthy backgrounds, these individuals will disappear from the arts industry. With mentors via schemes such as University Women in the Arts, there will be added support, a sharing of knowledge and learning from mistakes to succeed going forwards.
Mentoring and guidance of peers and superiors at different points in careers can help formalise the path needed to build careers and succeed. Success is not always based on merit, often because women are not offered the opportunities whilst their male peers are, and also includes pay and childcare. At a basic level, low pay at entry level means the workforce is less diverse in every respect, so this scheme aims to go some way in changing that, to empower more women to succeed.