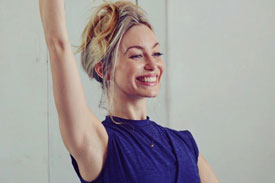 En Avant Ballet was founded by Karis Scarlette, a former Royal Ballet dancer. Throughout her training, she was lucky enough to be coached by Royal Ballet dancers and teachers such as Sir Anthony Dowell, Anya Linden, Jay Jolley, Dame Beryl Grey, Wayne Sleep OBE and Darcey Bussell CBE. Karis has danced in a wide range of productions with The Royal Ballet including The Nutcracker, The Sleeping Beauty, Swan Lake and Tales of Beatrix Potter. She graduated from the Royal Ballet School alongside current ballet stars such as Sergei Polunin, Claire Calvert and Bethany Kingsley-Garner.
An injury brought a premature end to Karis's professional career and it was through the long process of rehabilitation that her love of teaching was born. Karis recovered from injuries sustained, only to be amazed by the body's way of responding to positive mental imagery, persistence, patience and optimism, mainly using visualisation.
Karis now teaches a wide range of dancers from complete beginners to over 60s, pre-vocational children to professional dancers from major worldwide companies. She not only teaches across London and the UK, but also in Europe and Asia. Her second passion, travel, has also led her to holding Ballet Retreats in various countries across Europe, with plans to expand more globally by 2018.
Have always wanted to be involved in dance?
I don't remember actually beginning ballet classes as I was only two, but I do remember, when I was a few years older, just loving dancing, music and acting, so I guess yes! Ballet was all I did as a child until I went to vocational ballet school: we had to learn character dancing, contemporary, Scottish and Irish dancing. After retiring from professional dancing I knew I wanted to remain in the industry as a teacher to see how the ballet world would evolve and to somehow be a part of that.
Where did you train, and what was it like?
I was trained at The Royal Ballet School, both White Lodge and the Upper School. You often hear horror stories about boarding schools but I loved it! I really discovered my independence and quickly realised I wasn't part of the popular group in my year, which didn't bother me at all. In fact, I enjoyed being friends with so many different people that it taught me a lot about my own personality, away from the ballet studio (which ultimately helped with my transition into 'normal' life). I've never been one to follow suit just for the sake of it! I enjoyed the camaraderie of being with likeminded people, even if at times the highly competitive environment we found ourselves in bred some jealousy and setbacks. I got so many incredible opportunities to perform with The Royal Ballet, and in our annual school shows. We would often have guest choreographers create work on us, and being choreographed on by Jennifer Jackson when I was only 15 was definitely a highlight.
Describe a day in your life now.
A pint of water and strong rice milk Americano in my unicorn mug is how my day typically begins! I can't leave the house without breakfast and I make this a priority. I often begin with private clients from 8.30am, and teach all day until my evening group ballet classes. If I have a break between clients I will squeeze in a ballet class for myself or a quick workout session (my favourite activities being weight training, yoga, Pilates and swimming), or a meeting with business associates, partners or my PA, the wonderful Saba Ali!
I look after 14 private clients a week as well as teaching six group classes, but I have been known to teach up to 25-30 hours a week when the demand is there! I have to eat around five small meals and snacks a day due to my rather frantic schedule, so usually my day ends with a yummy vegan dinner around 9pm, after which I go to bed and either pass straight out or read. I read a lot about ballet and psychology! Does this make me a nerd?!
Who or what inspired you to found En Avant Ballet?
After my career ending injury, which saw me out of action for three years, I taught myself ballet again from the basics in order to gain strength (both physically and mentally) and to avoid injuring myself further. I discovered such joy and reward in the process. It taught me patience, humility and determination. I decided that the world needed to learn this too! So I became a teacher and started off by teaching children which, although was invaluable experience, I didn't consistently enjoy.
I ventured into the adult ballet arena when there were only a handful of classes available. As my teaching experience grew, I realised that I was good at interacting with people from all different walks of life on a very personal level by making them feel welcome, encouraged and supported in the ballet studio. Their journey was my journey and as more people turned up and I tracked their progress, it began healing me of my sadness from losing out on a long ballet career.
I guess you could say it was the people who inspired En Avant Ballet! In them, I see a passion for ballet that I also have in myself and I feel honoured that I can allow them to experience how incredible classical ballet is. En Avant Ballet was founded in 2015 and our philosophy is just that; spread the joy, thehealth benefits and healing nature of ballet through fun, supportive, inspiring classes, expertly taught in London and now internationally.
How did En Avant Ballet develop?
En Avant started out with just £1,000 in the bank, three group classes a week and a handful of private clients. Like all small businesses, initially I didn't think we could last the first year! With no financial safety net I had to move house after six months, because I couldn't afford the rent, as well as taking on three extra freelance teaching jobs in order to get by. But I knew I had done the right thing because of the feedback I was getting from the clients. Steadily we grew, stabilised and I could begin planning for the coming years – and I didn't expect to be where I am today! I am busier than ever, adding more classes to our timetables, ballet retreats in Europe and further afield, plus major corporate partnerships both here in London and internationally. I launched the business's first piece of merchandise this year, the Tutu Tote bag, and I also have plans to enter the digital world in 2018!
What has been the defining moment of your career?
All of the above! Another recent career highlight has been having professional dancers come to my advanced ballet classes. I've taught graduates of The Royal Ballet School and dancers from companies such as Dresden Ballet, Paris Opera Ballet, American Ballet Theatre and Stuttgart Ballet. I have also been invited to take part in projects and lectures at The Royal Ballet School over the years, and to have achieved this all before the age of 30, so early on in my teaching career, is something I'm very proud of.
What has been the most challenging?
Being an entrepreneur is very challenging, full stop. You have to have a lot of faith in your own decisions, often with no advice or plan B, and inevitably there are some failures along the way. There have been times when I have been certain that ideas will be a success – that changing studio venues would bring about new clients or that hosting a retreat in a particular location would sell out – but sometimes that is just not the case and you end up making a loss. But these are all lessons learned and I am believer that most things in life happen because you've subconsciously asked for them, in order to become more educated. If you're passionate enough to continue afterwards you will blaze a trail for others to follow!
What's the most rewarding thing about dance in general?
For me dance is my way of losing myself and finding myself at the same time. Rather paradoxically, it keeps me sane! It's an opportunity to express myself in ways words can't, and I think that's the same for all dancers and artists. I relish the process of mastering technical feats through positive practice and patience, and this is what is promoted in my ballet classes.
What's the worst thing?
I think the worst thing about dance is the fact that the mental health of a dance student is often overlooked. I don't agree with the 'break you to make you' attitude. All young dancers are budding human adults, and their mental development should be taken care of. As highly talented people are much more susceptible to depression, eating disorders and other mental health issues, I believe it's a schools' responsibility to ensure that children who are in training don't feel dehumanised, that they can't talk about a problem they are facing, or if they have an injury (I knew a lot of young dancers who danced through injury because of their fear of being discarded, myself included). There's this popular notion that the 'body is an instrument' which in dance it is, but there's more to an artist than just their body.
How do you see En Avant Ballet evolving over the next year?
I'd like to enter the digital world and I have a lot of ideas about how to do that, all of which I will keep secret for now! I am in talks with a major hotel chain at the moment as we'd like to partner up to offer ballet classes and workshops at their locations worldwide, and I am also in the process of organising our first ever live performance on stage which will hopefully take place next year! On ground level, I will keep producing quality, fun ballet classes to all age groups and levels, and continue to add to people's lives every day. I want more and more people to try ballet at least once in their life!
What three things do you think have contributed most to your success?
Definitely my Royal Ballet training, my injury experience and my desire to please people! I'm a natural leader so enjoy providing a great service and love seeing people do their best. My training helps me to facilitate that by ensuring my clients are learning and practicing safely. My injury taught me to appreciate my body and mind, and to treat them both with respect, just as I tell my clients to do to theirs also.
What would be your advice to an aspiring choreographer or company director?
My advice would be to look after your dancers, get to know them, their personalities and bodies, and give equal opportunities to all.
What's next for you?
My sole purpose right now is the running of En Avant Ballet and looking after my clients. I want to keep evolving the business by providing them with many more opportunities to further their knowledge and experience. We are a very happy and fulfilled community!