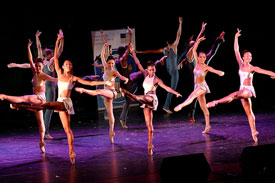 One Dance UK, working in partnership with Dance Consortium, is looking for 20 aspiring dance leaders to become its 2017/18 cohort of Dance Ambassadors. Developed over the last nine years, the Dance Ambassador programme provides training and guidance relevant to young people considering a career in dance that goes beyond the stage.
Dance Ambassadors will have the opportunity to assist with dance projects and events, such as the U.Dance national youth dance festival, the chance to influence policy by representing the voice of young people at many key political and stakeholder events, as part of the strong advocacy work done by One Dance UK.
This year One Dance UK has teamed up with Dance Consortium, to enhance the opportunities available for the Dance Ambassadors to learn about what it takes to be the Chief Executive of a major large-scale dance venue or to manage the tour of an internationally renowned dance company. This new partnership builds on Dance Consortium's successful Future Leaders programme, and paves the way for Dance Ambassadors to see themselves as future leaders of the dance sector.
Members of Dance Consortium are delighted to be working with One Dance UK to develop their . Linking the Future Leaders programme to the Dance Ambassador programme will ensure that Future Leaders gain a real insight into all aspects of the dance sector at the same time as developing their leadership aspirations, and for the youth of One Dance UK, they will gain valuable tools and insights into the working life of a dance leader.
The application process for Dance Ambassadors is open to young people aged 15 to 25 who live in the UK. It closes on 18 September. One Dance UK and Dance Consortium encourage applications from young people who have a disability and/or are from a black or minority ethnic background.