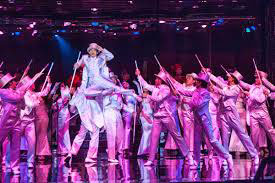 NBC has been leading the way for live television musicals, a trend which was revived in 2013 with the television channel's adapted revival of The Sound of Music starring Carrie Underwood. Since then, many musicals have been presented: Peter Pan Live! by NBC, The Wiz Live! by NBC, Grease: Live by Fox, The Passion by Fox, Rocky Horror Picture Show by Fox, Hairspray Live! by NBC and Dirty Dancing by ABC.
Presenting musicals on television this way is the ideal way to engage with new audiences for musical theatre, to help abolish any perceived stigma about musical theatre and the type of audiences it attracts. Following a large list of musicals previously presented on television, it seems ABC, Fox and NBC all have even more live musicals planned for television over the next two years.
The Wonderful World of Disney brand will be revived by ABC, with The Little Mermaid Live! being shown on 3 October. It will form a two-hour special event which will combine Disney's popular animated film The Little Mermaid with live musical performances, in an eclectic mix of live action and animation.
In December, Fox will broadcast A Christmas Story, based on the Broadway musical of the 1983 film of the same name. The story follows a Midwestern boy who desperately wants a Red Ryder BB gun for Christmas. Benj Pasek and Justin Paul, recent Tony Award nominees, will compose several new songs for the live TV event.
In 2018, Fox will also present Rent in light of the Broadway musical's 20th anniversary. Also next year, NBC will present live productions of Bye Bye Birdie and Jesus Christ Superstar. Starring Jennifer Lopez, Bye Bye Birdie was scheduled for December 2017, however due to Lopez's additional commitments, this will now be shown in 2018. Jesus Christ Superstar will premiere on Easter Sunday next year, on 1 April.