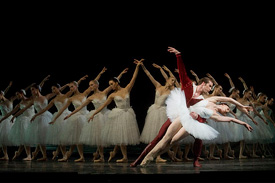 It was recently announced that Nicolas Le Riche will direct Royal Swedish Ballet from the beginning of autumn 2017, having signed a five year contract with the Royal Swedish Opera to join as the new ballet director. This new collaboration will see Le Riche work with the company on both classical ballet and contemporary dance, having done with same with Paris Opera Ballet. Le Riche will success Johannes Öhman, who will go on to direct Staatsballett Berlin.
In 2014, Le Riche left Paris National Opera, following a gala celebrating some of the most memorable moments of his career, including L'Après-midi d'une Faune by Nijinski, Boléro by Béjart, Raymonda by Nureyev, and Le Jeune Homme et la Mort by Roland Petit. Le Riche is currently the director of L'Atelier de L'Art Chorégraphique at the Théâtre des Champs-Elysées in Paris, having also danced with Paris National Opera throughout his career under the direction of Rudolf Nureyev. He danced on some of the world's most prestigious stages including London's Royal Opera House, the Bolshoi Theatre in Moscow, the Mariinsky Theatre in Saint Petersburg, La Scala in Milan, with New York City Ballet, and Royal Danish Opera in Copenhagen.
In further name-dropping for Le Riche, his directing career has seen him work with iconic choreographers over the years. World-renowned artists such as Mats Ek, Jiri Kylian, William Forsythe and John Neumeier have created works for Le Riche, and audiences can expect no less when Le Riche joins Royal Swedish Ballet. He plans to work on classical pieces as well as with choreographic innovators in order to create a creative, diverse programme for the company's international audiences. Le Riche will also work closely with the house musicians to enhance the uniqueness and artistic strengths that make up Royal Swedish Opera.