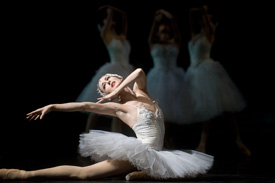 English National Ballet recently announced its dancer promotions and new joiners for the 2017/2018 season, with lots of news for the company.
Cesar Corrales was promoted to Principal, becoming the youngest of English National Ballet. Alison McWhinney and Fernando Bufalá were promoted to First Soloist. Katja Khaniukova, Aitor Arrieta, and Ken Saruhashi were promoted to Soloist, and Tiffany Hedman, Rina Kanehara and Guilherme Menezes were promoted to Junior Soloist. Precious Adams, Isabelle Brouwers, Jung ah Choi, and Francesca Velicu have been promoted to First Artist and Emily Suzuki has been promoted to 4th year Artist of the Company.
Joining as Guest Artists next season are Jeffrey Cirio, Principal at American Ballet Theatre, who performs with the company for the autumn/winter season, and Oscar Chacon who reprises his role as Hilaron in Akram Khan's Giselle. Jurgita Dronina joined the company as Lead Principal in July, and will simultaneously remain Principal at The National Ballet of Canada.
Aaron Robison joined as Lead Principal from San Francisco Ballet in June. Born in Coventry, he has received first place at many prestigious and international ballet competitions. Fellow British dancer Joseph Caley joins the company as Principal from Birmingham Royal Ballet. Caley has performed many of the leading roles in repertoire including Sleeping Beauty, Swan Lake, Giselle, Cinderella and Nutcracker, and has been a guest artist with the Australian Ballet.
Leaving the company at the end of the season is Principal Yonah Acosta. Acosta, who joined in 2011 as First Artist, was promoted to Junior Soloist, and to Principal in 2014. Acosta leaves English National Ballet to join as Principal of Bavarian State Ballet. Principal Laurretta Summerscales will take a sabbatical during the 2017/2018 season to perform with Bavarian State Ballet.
Also leaving at the end of the season is Soloist Emilio Pavan, First Artist Jinhao Zhang, and Artists of the Company Yoko Callegari and Jeanette Kakareka who join Bavarian State Ballet, while Artists of the Company Vitor Menezes joins the Royal Danish Ballet, and Daniele Silingardi joins Stuttgart Ballet.