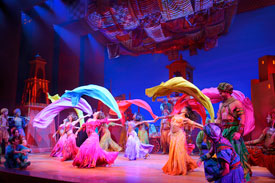 Disney's Aladdin will present an Autism-friendly performance next week, its first dedicated Autism-friendly performance of this kind. The unique performance for the musical theatre show will take place on Tuesday 29 August, providing families with the opportunities to do something with their children they might not normally be compelled to do.
The adapted performance is specially designed to ensure the West End production of Aladdin is more accessible to people with Autism. The theatre will be staffed with experts in Autism, with dedicated quiet and activity areas set up in the foyer of the theatre should anyone need to leave their seats during the show. The production of Aladdin follows in a long line of theatre both in London and nationwide that are providing these special experiences, for audiences who require some extra thought to ensure they enjoy their time at the theatre.
Disney's Aladdin's first dedicated Autism-friendly performance will take place at 1.30pm on 29 August at the Prince Edward Theatre, London. Aladdin has partnered with The National Autistic Society to create a friendly and supportive environment to enjoy Disney's spectacular new West End musical. This specially adapted performance is suitable for people with autism, with trained staff on hand, and a welcoming and inclusive environment for everyone to enjoy.
As part of the performance, Official London Theatre is able to offer one family the chance to attend  this special performance of Aladdin and blog about their experience for the Official London Theatre website, providing even further insight for other families who are contemplating a trip to the theatre. Special performances – by musical productions such as Aladdin – are therefor extending an arm to families and new audiences that may not necessarily have the chance to attend and enjoy theatre.