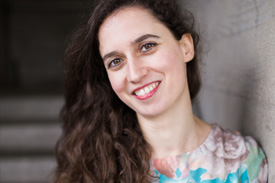 Evangelia Kolyra is a Greek born, London-based artist and performer. Working within the choreographic realm, her work takes place within theatre spaces, site-specific, film and installation contexts and spans dance, theatre and performance art to explore the performative state. Through her physically demanding choreography, Evangelia's work bridges contemporary dance and the contemporary visual arts, incorporating the unexpected, humorous and sometimes dark sides to the psychology of human experience.
As a performer, Evangelia has worked with Marina Abramovic, Tino Sehgal, Willi Dorner, Nicole Beutler, Deborah Hay, Rosemary Lee, and Matthias Sperling; performance venues have included at Tate Modern, The Marina Abramovic Institute, the Benaki Museum and the V&A. Evangelia has been creating her own work since 2010 and has presented at various festivals and platforms across Europe. 10,000 litres is what she is currently working on, representing her first mid-scale production.
Have you always wanted to be involved in dance and the performing arts?
I suppose, yes. Dance was something that was already part of my life somehow since my mother has the same profession and owned a dance school. In a way, I grew up in that school. As a kid I thought that this is what I would do.
Where did you train, and what was it like?
I have an MFA in Choreography from Roehampton University (London), a BA in Dance from Professional Dance School D. Gregoriadou (Athens) and a BA in Greek Philology -Linguistics, from National & Kapodistrian University of Athens. My education has offered important knowledge to me which becomes useful when I make work, sometimes consciously and other times subconsciously.
Describe a day in your life now.
I do not have a routine. Every day is different. And this is the exciting part of a freelancer's life. I could be rehearsing, reading, doing administration work for my projects, attending workshops, teaching…
How do you prefer to work, on your own or in the studio with your dancers?
I definitely prefer to collaborate. I find collaboration a challenging but vital process for my artistic and personal development. Working with others challenges my perception and enhances my knowledge and creativity. I discover new interests and develop my skills. The moments when a new idea emerges out of collaboration are invaluable. And there is always the benefit of support and the encouragement of common goal.
What has been the defining moment of your career?
It is quite difficult to answer this question since there are many moments that I could say are landmarks, but things are constantly changing. Perhaps the defining moment could be the time when I started my studies in Choreography, as that was the moment when the excitement of inventing and composing, breaking and making arose very strongly in me and I realised how much I love creating choreographic work.
What has been the most challenging?
The biggest challenge, which comes back with every project, is to find the right people and form the right group to work with, and to constantly generate ways to keep the energy of the group balanced in order to build and maintain the appropriate creative environment.
Who or what inspires you every day?
People. They teach me about the human being itself, and interpersonal relationships. I observe how we interact, how we meet and present ourselves and how the relationships change with time. My artistic practice is driven by my interest in the embodied nature of experience, the motional potential and function of the human body and its relation to socio-political and cultural factors. I tend to allow the idea to emerge from the movement itself and then work with elements which refer to a universal realm. My interest is in finding unexpected stimuli and use 'mistakes' as inspiration.
What's next for you?
I hope that I will continue to have opportunities which will inspire me to keep creating new work and develop a strong language which will hover in between artistic disciplines and can reach different audiences.
Currently my focus is on three directions: to keep performing my latest stage work "10,000 litres" in the UK and abroad – which has been performed at The Place, Onassis Cultural Centre, Kalamata International Dance Festival and Rich Mix. To develop further while performing my new choreographic participatory installation work "code bend time", which was firstly performed at Lace Market Gallery (Nottingham) as part of Nottdance Festival 2017. Lastly, to create a new work.