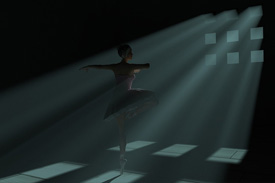 Birmingham Royal Ballet, in association with Sadler's Wells, is set to launch a world class ballet development programme in 2017, in order to nurture talent currently on stage. The two organisations are joining forces for a major new concept for classical choreographers, in the form of a five-year programme of professional development, with two commissions made each year. Ballet Now will support a total of six artists per year, with one choreographer, composer and designer per commission.
Ballet Now is specifically for choreographers who have taken a classical route but have not had the opportunity to work on a large scale. The programme will offer the selected artists mentoring from BRB director David Bintley and the company's music director Koen Kessels, with Bintley maintaining the idea came from a realisation that there is choreographic talent being nurtured through a classical background that is not being used. There is a big trend for contemporary choreographers to go into ballet, so Ballet Now aims to address this.
The process will be overseen by a creative consortium, made up of experts from across the ballet world to support the selection of creative talent. It will also provide mentoring opportunities for the selected artists, and will include David Bintley (Director, Birmingham Royal Ballet), Alistair Spalding (Sadler's Wells Artistic Director and Chief Executive), Cassa Pancho (Artistic Director, Ballet Black), Ted Brandsen (Director, Dutch National Ballet), and Emma Southworth (Studio Programme Senior Producer, The Royal Ballet).
Ballet Now will announce the first awarded commissions on 3 November 2017 at Sadler's Wells. The commissions by Birmingham Royal Ballet and Sadler's Wells will provide the support and freedom to champion artistic innovation, risk-taking and new choreographic practice. The scheme will support large-scale commissions by emerging choreographers, as well as offer mentoring from major ballet companies. The the work created will premiere at either Birmingham Royal Ballet or Sadler's Wells in London.