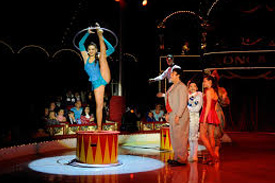 Cirque Éloize will return to the Edinburgh Fringe this year after an 18 year break: it will mark Cirque Éloize's second time at the Edinburgh Festival Fringe and follows a critically-acclaimed 1999 run of Circus Excentricus. This year the company will present Cirkopolis, an imaginative and humorous show seen by over 450,000 in 100 cities in 30 countries. It won the Drama Desk Awards for Unique Theatrical Experience in 2014.
Cirkopolis is inspired by the legendary 1927 film Metropolis. The Montreal-based Cirque Éloize takes its breathtaking blend of circus arts, theatre and dance to a highly-stylised metropolis setting, where twelve acrobats and multidisciplinary artists rebel against monotony, reinvent themselves and challenge limits. Accompanied by an original musical score, video projections and an inventive stage design, the performers live in a world where fantasy defies reality under the mask of anonymity.
Cirkopolis began touring in September 2012 and received rave reviews from the public and critics alike. Co-directed by Cirque Éloize Artistic Director and Co-Founder Jeannot Painchaud, and co-directed and choreographed by Dave St-Pierre, the show features set design and illustrations by Robert Massicotte, music by Stefan Boucher, acrobatic designs by Krzysztof Soroczynski, costumes by Liz Vandal who has designed for, among others, Cirque du Soleil and Backstreet Boys, and lighting design by Nicolas Descoteaux who has worked with directors including Robert Lepage.
A huge force in the circus art reinvention movement, Cirque Éloize has been creating award-winning entertainment content for nearly 25 years, and ranks among the world's leading contemporary circuses. Its productions are crafted for a wide range of audiences and have been embraced by over fifty cultures. In the last 24 years, Cirque Éloize's eleven shows have boasted more than 4,000 performances in over 500 cities, and have been seen by over three million people.