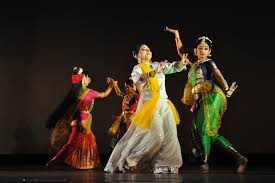 The spotlight has recently shone on Indian dance at The Place, one of Europe's most innovative performance spaces, with shows and workshops programmed to celebrate the British Council's UK-India Year of Culture 2017.
Choreographer Shobana Jeyasingh offered an intriguing exploration of rhythm, location and shared history in her latest virtuoso dance piece Material Men redux (which ran from 28–29 April). A dynamic exploration of the violence of loss and the creation of new ways of belonging, Material Men redux featured a score by acclaimed Australian composer Elena Kats-Chernin including sound design by Leafcutter John. It is played live on stage by The Smith Quartet.
Whilst The Place offers a wide range of dance classes for all ages and abilities, participants were also able to learn new moves in an inspiring and friendly atmosphere with Shobana Jeyasingh Dance Company, which delivered three days of dance workshops, including a youth residency for 12-16 year olds and two sessions for young people aged 16 years and older, as part of Easter Dance Courses.
Later in the year, Krishna Zivraj-Nair will lead an Indian Rhythms dance workshop as part of Family Dance Day (22 July) at The Place, an activity filled day for children aged 2-8 years and their families. Since 2015 2Faced Dance Company, in partnership with Arts Council England and The British Council, have been developing work with female choreographers in India, as part of their Re: Imagine India Fund. The work that has been created will then be presented in RE: IMAGINE INDIA, Outlands (3 October) at The Place.
Young people can also sample the techniques of contemporary and Indian dance in Summer Dance Courses (from 24–28 July) with The Place and The British Library. There will be a site-specific show at The British Library Courtyard, Poet's Circle (28 July) for older participants, and a youth residency working with Akram Khan Dance Company.