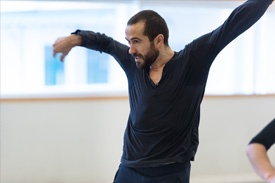 Jose Agudo launched his company, Agudo Dance Company, with the world premiere of his new work Silk Road in the Lilian Baylis Studio at Sadler's Wells in early May.
Using traditional references as the point of departure, Silk Road explores the ancient trade and cultural network exchange routes that were central to cultural interactions through Asia, connecting the West and East with merchants, pilgrims, monks, soldiers, nomads, and urban dwellers from China and India to the Mediterranean Sea from ancient times to the early Renaissance period.
Silk Road features two solos performed by Agudo, created by guests including Spanish dancer and choreographer Rafael Amargo, and kathak dancer and choreographer Nahid Siddiqui. A duet choreographed and performed by Agudo and internationally renowned Bharatanatyam and contemporary dancer Mavin Khoo completes the bill. Khoo is the Artistic Director of ZfinMalta Dance Ensemble and was one of the judges for the 2015 BBC Young Dancer final, as well as the rehearsal director for English National Ballet's Giselle by Akram Khan.
Jose, have you always wanted to be involved in dance?
I wasn't exposed to or aware of dance until I was around 15 years of age. I joined a local theatre group who were working on a version of West Side Story and really loved the experience.
Where did you train, and what was it like?
Again, I was a late starter. I was at University studying sports and at the same time studying Flamenco dance in Granada. It was then that I realised that I wanted to dance so I moved first to Seville to train at Centro Andaluz de Danza and then to Valencia to train at Centro Coreografico de Valencia. I really found my freedom and path during this period.
Describe a day in your life now.
Life is incredibly full right now and no week is the same! I rise early to train, which is a ritual for me, then I am usually creating in the studio or touring, and my evenings are taken up with administration. I am a father too so I am always happy to have some free time with my family.
What has been the defining moment of your career?
Moving to London was one of the best decisions of my career. I feel a real hub of dance and opportunity here. I feel like the highlight of my career as a choreographer was at Cape Dance Company In South Africa, where I restaged A Thousand Shepherds with a cast of 12 dancers for a main stage. The work is touring at various South African festivals. It was very rewarding to have the support of Debbie Turner, Cape Dance Company artistic director, as she really understands my work and creative process. She gives me the perfect balance of space to get on with my work and valuable feedback.
What has been the most challenging?
I am in the most challenging part of my career right now. On the one hand I feel very fortunate to have project funding for Silk Road, however I don't have the company infrastructure to feel fully supported. There are so many things to juggle with commissions, creations and workshops and I would prefer to concentrate on my time in the studio rather than admin. Of course, I realise this would be the case for many choreographers so the solution is a work in progress!
What was the inspiration behind Silk Road?
Silk Road is an exploration of the rituals and dance forms along nomadic routes, revealing the lesser-known connection between Classical Indian dance and Flamenco, arriving to a contemporary context. I feel very inspired to perform again and bring all of my training from Flamenco, Kathak and contemporary dance into one production.
Can you explain the piece in three words?
Celebration of exchange
What's the most rewarding thing about dance in general?
When a physical language communicates eloquently and transmits a 'state of being' to an audience. It is a very special, fleeting moment when I can achieve this as a performer.
What's the worst thing?
The fear of getting injured which brings a fragility to dance as a career
Do you have any pre-show rituals, either for yourself or your dancers?
This changes depending on the demands of the production but I always like to stop and just become aware of my breath for a while.
Who or what inspired you to form Agudo Dance Company?
I wanted to formalise all of the strands of my work but particularly develop my own choreography with long-term collaborators. I enjoy creating commissions however there can be a sliding scale of compromise involved which on occasion has reduced the overall quality of my work. In the future I would like to be able to employ more dancers in a company context and create a really vibrant exchange of ideas and creativity.
What is your advice to an aspiring dance artist?
Believe in your ideas, believe in yourself, and especially trust your instinct and physicality. The body is a real gift and it is able to say so much in a subtle and poetic way. So train your body until you know it inside out, until you become master of your craft.
What's next for you?
The first three Silk Road performances will be used as a springboard for booking a spring 2018 tour so that feels very pressing.
Then I have interesting commissions with Akademi, Granada International Festival and ZfinMalta Ensemble; lots of summer workshops at Dance Days Chania, Impulstanz, and Fabrik Potsdam amongst others. Plus a site-specific film of my piece, Selah. It's a great year ahead!