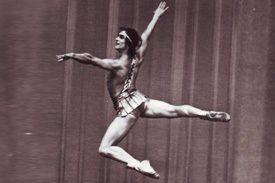 Showcasing male strength, beauty and diversity at its best is Ivan Putrov's new Men in Motion programme at London Coliseum. Recently announced was the news of Irek Mukhamedov joining the proceedings, alongside dancers such as Matthew Ball, Daniel Proietto and Edward Watson, performing choreography from Fokine and Nijinsky to Maliphant and Pita.
Mukhamedov will join the line-up of Putrov's celebration of the male dancer for two performances on 22 and 23 November. Since the first sold-out London run in 2012, dancer and producer Putrov has continued to develop Men in Motion, his "100 years in 100 minutes" exploration of the role of the male dancer over the past century, through a range of brilliant and challenging choreography.
Mukhamedov, whose return to the London stage in English National Ballet's Broken Wings last year won him a nomination for Outstanding Male Performance (Classical) in the National Dance Awards, will perform a new work created for him by Arthur Pita. He continues to be an inspiration both as performer and teacher to generations of dancers, so his appearance on stage as part of this artistic programme for male dancers is a perfect fit.
Award-winning dancers Ball, Proietto and Watson are among those joining Ivan Putrov at the London Coliseum. The evening features a wide range of choreography, and Putrov will dance the role made famous by Nijinsky in Fokine's Le Spectre de la rose. Daniel Proietto will perform Russell Maliphant's exquisite Afterlight, inspired by Nijinsky, and Royal Ballet principal, Edward Watson, will reprise Arthur Pita's comic but ultimately poignant Volver,Volver, which sees him move from matinee idol to Spiderman. Fellow Royal Ballet dancer Matthew Ball will make his London Coliseum Men in Motion debut.