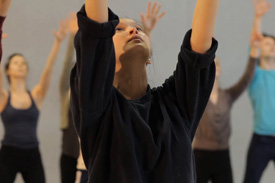 The late choreographer Pina Bausch has had an almost constant presence on London stages so far throughout 2017. The 40th London International Mime Festival opened in January with Smashed: Special Edition, Gandini Juggling's homage to Pina Bausch. In February Bausch's company, Tanztheater Wuppertal, returned to Sadler's Wells with her Masurca Fogo. In March, English National Ballet become the second company in the world to be granted permission to perform Pina Bausch's extraordinary reading of Stravinsky's Rite of Spring.
Bausch's death in 2009 left behind an expressionist style, and a whole host of repertoire to be preserved for the future. Her piece Masurca Fogo in particular is inspired by the sunshine and cultural mixture of the Portuguese capital, Lisbon, a melting pot of South European, African and Brazilian influences resulting from the country's colonial past. It has been described as one of Bausch's sunnier, more light-hearted creations. It seems her creative process was often influenced by the place the company was invited to.
Returning to English National Ballet's performances of The Rite of Spring, the piece demonstrates Stravinsky's graphic portrayal of the eruption of Spring in his native Russia and the violent pagan rituals that went with it. Notably it has proved irresistible to many choreographers in the century since its 1913 première which caused a near riot at the Paris Opera. This version includes Pina Bausch's reading of it, and it is danced on a stage covered in soil; it is therefore seen as the 'definitive' version. The portrayal is again different with another company adding it to their repertoire.
As the second company in the world to be given the right to perform the piece, English National Ballet has been able to perform the piece in its own way. A positive critical response was seen for the company's Rite, a great relief for all involved.