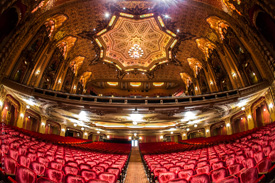 Liverpool is set to install the UK's first revolving theatre, as part of plans to revitalise Liverpool's Ten Streets dockland area into a creative hub for arts and technology organisations. The 'stage-around theatre', in which seats rotate to face different stages, will be the first of its kind in the UK, as part of ambitious plans for a new creative quarter that officials hope could create thousands of jobs in Liverpool.
Some cultural venues have already moved to the area, however the theatre plan is one of ten "big ideas" to be unveiled, ground-breaking in terms of a cultural destination for the city as a creative powerhouse of the 21st century. The cultural potential within the city is hoped to be further unleashed through the theatre. No location has yet been agreed for the new theatre however, and final decisions will not be made until after the consultation is complete and investors have been identified.
The rotating theatre system, also known as Scene Around, was created in the Netherlands, and a theatre using the same technology is being built in Tokyo. At the production Soldier of Orange at the TheaterHangaar in The Netherlands, the audience sits on a rotating platform that turns to face any one of the different stages installed at the edge of the theatre. For the UK it will be the first revolving theatre and music venue.
The cutting-edge revolving stage will add huge amounts to the city, the future envy of the rest of the UK. The venture will provide audiences with a genuinely immersive experience built around an international quality performance programme, having originated in the Netherlands and seen huge success in Tokyo. Now it is headed for the northern city of Liverpool, where it will transform the theatrical scene.