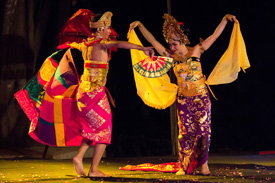 The Victoria and Albert Museum and Royal College of Art are set to launch a new performing arts-led archive course, based at the V&A's theatre collections. It is a new optional strand of the V&A and Royal College of Art's existing 15 month MA programme on the history of design, and students will be able to dedicate their entire curriculum to performance.
Named 'The history and material cultures of performance', the course strand focuses specifically on the performing arts. Students will be able to work with artefacts including the Joey puppet used in the National Theatre's War Horse, and the D'Oyly Carte's Gilbert and Sullivan archive. It is aimed at those with backgrounds in drama and theatre academia, as well as performers and creatives.
Based at the National Collection of Performing Arts at the V&A, the strand is being described as the first of its kind. Additionally it will mean the students can work with vast amounts of resources held at the collection, including costumes, posters, designs and archives. This way the students can explore how the history of objects and artefacts provides a way to examine the culture and politics of performance.
The course will start in September 2017, subject to validation. It has been curated so the new pathway builds on the Royal College of Art's and V&A's common commitments to artefact-based research, experimental approaches and close engagement with diverse arts audiences. The strand specifically emerged as a result of these shared interests, and from the acknowledgement of the importance of the V&A's collections for understanding theatre and performance history in a wider arts context.
The programme is expected to appeal to a wide range of theatre and performance professionals and graduates, especially those with a strong passion for theatre and performance, tied in with research into cultural and social history.