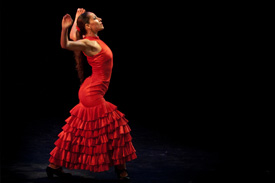 Following successful tours in 2015 and 2016, Flamenco Edition returns in 2017 with the Ana Morales Flamenco Company. Touring to more venues than ever before and following the success of previous tours – Jesus Fernandez in 2015 and Olga Pericet in 2016 – Flamenco Edition 2017 presents Ana Morales Flamenco Company in Reunión – a brand new show for the UK, touring to Newcastle, Birmingham, Derby, Nottingham and Bournemouth between 9–17 May.
For the Reunión work, Ana Morales teams up with guest artist David Coria – forging a partnership of two of the most celebrated flamenco performers dancing today. Both dancers hail from the home of flamenco, Seville, where this unique form of dance, music and life was born in the streets to become one of the most celebrated forms of folk art worldwide. With a team of musicians, Reunión conveys the passion of flamenco with determination and artistry through the different palos – flamenco's rich range of rhythmic styles – that will exhibit the culture and spirit of the Andalucian art form.
Ana Morales is from Seville and started training at the age of 16. On stage, Morales has accompanied Eva Yerbabuena, Javier la Torre, Andrés Marín and Javier Barón among others. She danced in Carlos Saura's film Iberia (2005) and in 2009 was awarded the prestigious first prize for flamenco dance at the Festival Internacional del Cante de las Minas in La Union. Morales received critical acclaim performing alongside Belén Maya in Los Invitados, which opened the 5th edition of the Dutch Flamenco Biennial in 2015. She divides her time between her own shows and her role as a soloist in the Ballet Flamenco de Andalucía directed by Rafaela Carrasco.
Flamenco Edition is the brainchild of Birmingham-based flamenco artist, teacher, choreographer and producer, Ana Garcia. She has been part of the flamenco industry in the UK and Spain for 25 years and has a vast amount of experience and passion for flamenco. Flamenco Edition aims to engage audiences outside London through small-scale productions with the focus on intimacy and authenticity at the centre of each presentation.