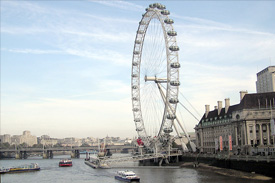 Central School of Ballet recently unveiled its plans to move to bespoke new premises on London's South Bank, a flourishing arts community. The new building is planned for completion in the academic year 2018/2019. The aim is to become a hub for a dynamic dance community, combining excellence in dance training – for those aiming for a professional career – with general dance classes and London outreach projects. As a world-leading professional dance training organisation and part of the renowned Conservatoire for Dance and Drama, this is an exciting time for Central School of Ballet.
The planned move to Paris Gardens will allow greater engagement with young people who do not currently have access to dance classes, building on its activities with junior schools in Southwark. The organisation was founded on the principle that talented young dancers should get the opportunity to pursue dance as a career independent of financial circumstances or background, and the move will continue this in its work with local communities. At present the school is located in Clerkenwell, with over 1,200 people using the facilities each week.
The new premises on the South Bank will, over the next five years, allow the school to offer dance classes to thousands more in the Southwark area, and give the local community opportunity to see and take part in dance performances, many of whom have never had access to dance before. From students training for a professional career in dance to children taking their first steps in ballet, and adults using dance to improve fitness and wellbeing, the school will continue to thrive.
Interest in dance is continuing to increase at all levels. Audition numbers for Central's professional three year BA (Hons) degree course in Professional Dance and Performance increased by 80% this year, adult classes are full with waiting lists and the pre-professional courses for 11-16 year olds are growing every year. Central has clearly outgrown its current premises, and the new building will include amenities to rival dance training facilities anywhere in the UK; seven studios, a fully-equipped studio theatre, and study and resource centres, specially designed for dance and performance needs.