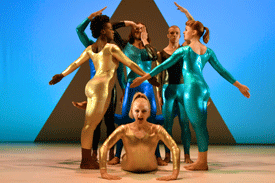 Rosie Kay Dance Company recently premiered new work MK ULTRA, focusing on the generational gap in knowledge about mind control conspiracies within pop culture today. The work is therefore inspired by pop-culture conspiracy theory and the Illuminati, a shadowy elite cult that brainwashes child actors and singers, and controls mass opinion through puppet performers (who brainwash with music videos and mass entertainment vehicles). This sits on a hotbed of 'Fake News' and 'Alternative Facts' which often create headlines.
MK ULTRA is a work that has been in the making for over three years, with forensic research resulting in a show that could not be more timely. The intersection between fact and fiction, entertainment and news, truth and conspiracy is becoming blurred, leading us to question what reality have we created for ourselves. Creating an audio-visual world, mixing pop-style, athletic dance and unique documentary footage, Kay has teamed up with filmmaker Adam Curtis and fashion world wunderkind Gary Card to explore what's real, what's a governmental cover up, what's a fantasy and asks if we are living in a brainwashed 'filter bubble'.
Rosie Kay Dance Company is an internationally recognised dance-theatre company that creates exciting and challenging work that tours in unique and captivating ways to theatres and unusual spaces. The company creates a dynamic range of shows, always exploring exciting ways of what dance can be and how dance can be presented. Kay's work is always grounded in research, and her most recent works have included significant video elements.
Kay trained at London Contemporary Dance School, graduating in 1998. After a career as a performer she formed Rosie Kay Dance Company in 2004. Kay has created award-winning theatre work and is Associate Artist of DanceXchange, Birmingham and Associate Artist, Dance City, Newcastle.
MK ULTRA premiered at Birmingham Repertory Theatre on 17-18 March and will tour to a further 10 venues across the UK – including Lincoln, York, London, Newcastle and Leeds – until 18 May 2017.