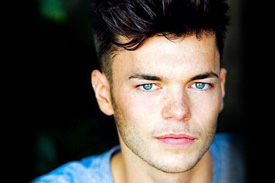 Training: Laine Theatre Arts (Graduated 2016, Distinction)
Theatre whilst training: 'Mike' in A Chorus Line; 'Jojo' in Seussical [LTA]
Theatre includes: Peter Pan [SECC Arena, Glasgow]; Cinderella [Grand Theatre, Wolverhampton]; Wicked International Tour
TV includes: The People's Strictly [BBC Comic Relief]
Have always wanted to be on stage?
Yes! As a child I was always 'the entertainer' of my family, so when I started dancing it was inevitable that I would end up on the stage.
Where did you train and what was it like?
After 10 years of training at my local dance school in Stourport-on-Severn (Step by Step dance studio) I went on to train at Laine Theatre Arts for three years. These three years taught me so much; it was challenging but such an amazing way to prepare yourself for the industry.
What has been your favourite audition since leaving college and why?
My favourite audition since leaving college has to be Wicked. The process was very intense, however I loved dancing the routines because the choreography is very different and intricate.
What is your favourite part of the Wicked international tour?
Because I'm a swing you never know who you might be on for, every night. This is my favourite part because you're constantly switching between different ensemble members, so it's never the same.
What is a day in your life like?
Most days I wake up and make it to the hotel breakfast… just about! After my daily poached eggs I will normally sit by the pool or go to the gym, or explore the country that we are in (weather dependent). Once I've done this I will then have a bite to eat before going to the theatre for warm up.
What's the best thing about performing and dance?
The best thing about performing is the feeling that you're allowing people to watch you for an escape. People go to the theatre for enjoyment and to know you're a part of that is my favourite thing.
And the worst thing?
Because this profession is so physical, you will more than likely have to deal with minor/major injuries. One of the hardest things is listening to your body when dancing; if you feel a niggle or pain and you dance through its more than likely you're going to aggravate that injury and potentially prolong the healing process. The hardest thing for me is being able to sit and rest and not carry on dancing whilst I'm trying to recover.
Do you have any pre-show rituals?
I don't personally have any pre-show rituals, but before every show the whole cast hold hands in a circle and all run in at once. It lifts the morale and builds the communal energy for curtain up.
What would be your advice to an aspiring performer?
For anyone aspiring to be in this industry you will need to make sure you can take criticism and have a thick skin. You may face many setbacks in your career which you will need to take on the chin, turn it into a positive and put it towards your growth as a performer.