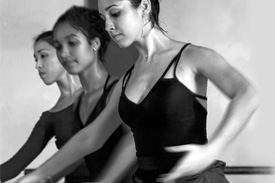 Ballet Black will present a triple bill of bold choreography on 28 March, founded in 2001 as Cassa Pancho's award-winning, neo-classical ballet company. The bill will blend classical and contemporary choreography which is both narrative and abstract. The company celebrates international dancers of black and Asian descent and aims to bring ballet to a more culturally diverse audience by showcasing the talent of these dancers from around the world.
Artsdepot will see the mixed bill of dance open with British choreographer Michael Corder's classical quartet House of Dreams, exploring themes of love and loss. This abstract piece is set to the music of Claude Debussy with costume designs from Ballet Black's long-term collaborator, Yukiko Tsukamoto. Corder's work is followed by Captured, Martin Lawrance's choreography filled with fiery emotion set to a Shostakovich string quartet. The bill concludes with a new ballet by Annabelle Lopez Ochoa that gives popular fairy tale Red Riding Hood a surprising twist.
The company is made up of eight international dancers who dance original repertoire covering a broad spectrum of ballet. Since 2001, it has built a varied repertoire from the best emerging and established choreographers, including Liam Scarlett, Shobana Jeyasingh, Martin Lawrance, Richard Alston, Christopher Hampson, Christopher Marney and Javier De Frutos. Ballet Black has achieved numerous awards, including the 2012 Critics' Circle National Dance Award for Best Independent Company, and a further nomination in 2014.
Pancho – Ballet Black's Artistic Director and Founder – trained at the Royal Academy of Dance, gain­ing a degree in classical ballet from Durham University. Upon graduating, she founded Ballet Black in order to provide role models to young, aspiring black and Asian dancers. A year later, she opened the Ballet Black Junior School, and later began the BB Associate Programme, which currently has over three hundred members. In 2013, Pancho was awarded an MBE in the New Year's Honours list.