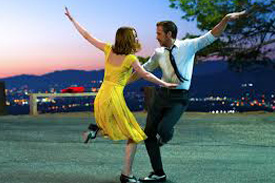 New hit La La Land, starring Ryan Gosling and Emma Stone, is a movie musical for the 21st century full of tap, waltz, foxtrot, and with a huge nod to the 20th century musical classics. Choreography is a strong element in any musical, and the opening of La La Land depicts a typical, Los Angeles traffic jam, bumper-to-bumper traffic until the drivers get out of their cars and begin to sing and dance!
The scene was filmed with 30 professional dancers and more than 100 extras on a very hot day, hopping, jumping and somersaulting over cars and vans. The first rehearsal was in a car park, and the freeway filming took place at 3am. The cameras had to be mapped, which morphed into 3D on a model ramp with toy cars. Then came filming, which of course meant shutting the freeway ramp for two days of filming.
The opening scene took 47 takes for a three-minute and 48-second dance number that happens before the film title appears on screen. Choreographer Mandy Moore has worked on three films previously, and has been choreographing for 12 years. Her work has been for television, for shows like Dancing With the Stars and So You Think You Can Dance. Moore had her work cut out in La La Land, with lots of teaching required for the film.
Gosling and Stone were both non-dancers, and in two months the pair studied singing, piano and dancing. The stars had different approaches to their dancing lessons, with Stone preferring to get the movement immediately, whereas Gosling would take a little longer to build up his muscle memory. The characters, having not liked each other, fall in love. They perform a love duet on a hill in the park, and Moore chose specifically to borrow steps from a classic Fred Astaire and Ginger Rogers duet from the 1935 film Top Hat. Ultimately fitting.