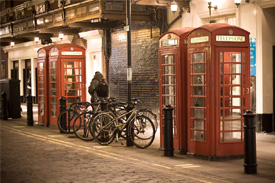 Theatre ticket organisation TKTS, and annual ticket project Kids Week, have teamed up in order to bring theatre lovers a fun Theatreland Trail. Touted as perfect to do with the family, with a group of friends or even on your own, the Theatreland Trail will take participants on a journey throughout London's Theatreland, where you can meet famous playwrights, see a whole host of theatres and enjoy the sights and smells of the West End.
The Theatreland Trail, allowing users to further engage with the capital's theatre scene, will take approximately one hour to complete. As a result it can be a great activity for either before or after seeing a West End show, if it is a matinee performance you are attending. Armed with a map to help you get around, the Theatreland Trail will delight both young and old as an added extra to your theatrical experience. More detailed maps are also available to help with navigating the smaller streets.
Theatreland Trails can be picked up from the TKTS booth in Leicester Square, open every day, Monday-Saturday 10:00-19:00 and Sunday 11:00-16:30. Copies of the Theatreland Trail can also be found at selected theatres across the West End, or downloaded and printed at home. The West End can get very busy at times, but the Theatreland Trail is a great way to get to know London's Theatreland better, and find out its secrets. You can find help for clues and answers with the Official London Theatre Guide; this can also be picked up at the TKTS booth in Leicester Square, and at theatres.
Don't miss out come the summer; Kids Week's aim is to encourage young people to get involved in theatre. Every August, a child aged 16 or under can go free to participating shows, when accompanied by an adult paying full price.