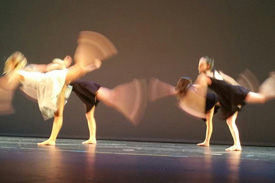 CBBC is offering young dancers aged 9-15 from across the UK a special opportunity – to audition for the chance to be part of a television show, performing with the cast of the hugely successful series, The Next Step. In order to apply, after gaining parental permission, all dancers need to do is complete an application form and send in a video of their best dance moves. Dancers must be aged between 9 and 15 years old on 1 April 2017.
The dancers selected will be invited to attend Regional Auditions in front of expert judges. After the Regionals dancers will be selected to attend National Auditions, and the judges will select the top performers to take part in the Finals. The winning dancer will then be announced. Auditions will take place from mid-April to the end of July 2017, with the whole process being filmed for the exciting series.
The application form asks for more information about the dancer, and must be accompanied by a filmed dance routine of no more than 60 seconds. It must show off the dancer's preferred style of dance and it must be submitted using the video uploader tool. Dancers are encouraged to film their performance wherever they are most comfortable, in the garden or anywhere else with enough space. Films must be landscape rather than portrait, and it must not identify location, school or home address.
The application deadline for both video auditions and application forms is noon on 17 March. Every application will be considered, however if dancers have not received a response by 12 May 2017 then the application has not been successful on this occasion.