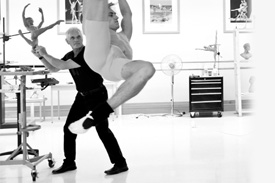 March will see Project Polunin take to the Sadler's Wells stage in London, with internationally acclaimed and notorious dancer Sergei Polunin dancing at the venue from Tuesday 14–Saturday 18 March. Project Polunin will draw together world-class artists for this new production, aiming to challenge perceptions of dance through live performance. In addition, the production hopes to act as a catalyst for a new generation of dance artists to explore what the future may bring.
Produced by the Polunin Partnership in association with Sadler's Wells, Project Polunin is a triple bill of classical and modern pieces. The programme will include the UK premiere of Vladimir Vasiliev's Icarus: The Night before the Flight, performed by Sergei Polunin and Natalia Osipova, and Tea or Coffee, a company piece choreographed by Andrey Kaydanovskiy. Polunin's connection with Royal Ballet prima ballerina Osipova has seen his relationship with dance reverse, encouraging him to genuinely engage with the art form again.
The programme will also feature the world premiere of Narcissus & Echo, a piece created and composed by Ilan Eshkeri and co-created with Polunin and photographer and artist David LaChapelle. Polunin previously collaborated with LaChapelle, performing in his interpretation of Hozier's 'Take Me to Church'. Eshkeri wrote the music for Polunin's biographical film Dancer, which was released in UK and Ireland cinemas on 10 March. It offers a uniquely personal portrait of Polunin, the man who took the dance world by storm and became the Royal Ballet's youngest ever principal. At the peak of his success, aged just 21, he walked away, his talent more a burden than a gift.
Founded by Polunin in 2015, Project Polunin aims to create new dance and ballet works through the collaboration of dancers with contemporary artists, musicians and choreographers. The ongoing project will help create new works in conjunction with other artists from film and music, and provide continuous support for dancers and choreographers.