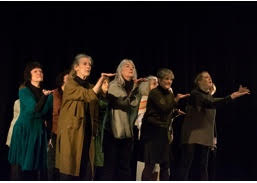 Yama, an over 60s dance performance company based in Bath, south west England, was recently announced as this year's winner of the Cosyfeet Community Award for Somerset. Supported by Bath Dance and the Institute of Contemporary Interdisciplinary Arts (ICIA), the group achieved a £500 award that will be used to help fund the group's transport to dance events around the country in the future.
Yama Dance, led by the company's Artistic Director Anna Heighway, attracts a range of members, in their 60s and 70s. The dancers who make up the group generally danced in their youth, however the group is also made up of those who are learning to dance for the first time. The group is successful alone in creating this dancing opportunity for its Bath members: there are numerous dance groups and opportunities for younger dancers, so Yama goes some way in promoting the visibility of this age group though performance.
The group was originally established to fill an opportunity gap for mature dancers in the area, and one of its key selling points is recognising that dance is not just about keeping fit. As with much research and recent press coverage, for this group particularly dance is about providing social interaction with similar peers, and maintaining a strong sense of wellbeing. Here dance feeds the body, mind and soul.
Yama Dance has 35 members and meets weekly at the Bath University dance studio. Its recent award was the Cosyfeet Community Award, run by Cosyfeet, specialising in footwear, socks and hosiery for people with swollen feet. Many of their customers are over 65, so to this end the award is a natural support for the dance group, enriching the lives of older people and helping them remain healthy, happy and independent.