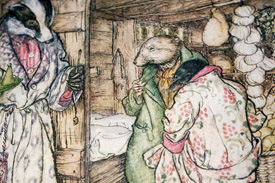 Following a highly-acclaimed pre-West End run, major new musical The Wind in the Willows will open in the West End at the London Palladium in June. The production played at the Mayflower Theatre, Southampton until 20 November, following its premiere at Theatre Royal Plymouth. Continuing its success, the musical is now set to delight London audiences too.
Comedian, actor and presenter Rufus Hound stars as Mr Toad in the new musical based on Kenneth Grahame's much-loved classic, with full casting still to be announced. The production reunites Downton Abbey creator Julian Fellowes and Olivier Award-winning composer and lyricist George Stiles and Anthony Drewe in making it a success.
Fellowes won two Emmy Awards and a Golden Globe in 2011 for his popular period drama Downton Abbey, and also won an Oscar in 2002 for his Gosford Park screenplay. Having collaborated with Stiles and Drewe on Mary Poppins and a new version of Half a Sixpence which recently transferred to the West End, other recent stage credits include School of Rock. Stiles and Drewe have been writing together for over thirty years. They are best known for writing new songs for Mary Poppins, their Olivier Award-winning Honk! and Betty Blue Eyes.
Producer Jamie Hendry has created over thirty major productions around the world, including the multi award-winning Legally Blonde the Musical and the hit Beatles show Let It Be. Following the musical's London transfer announcement, Hendry confirmed he would be continuing his pledge to provide readers of all ages the opportunity to enjoy The Wind in the Willows, by sending free copies of Kenneth Grahame's novel to every school and library in London.
This musical comedy follows Mr Toad whose insatiable need for speed lands him in trouble. With his home under threat from the Chief Weasel and his gang of Wild Wooders, Toad must attempt a daring escape leading to a series of misadventures and a heroic battle to recapture Toad Hall. The West End announcement comes after the producers opened a public investment scheme for the musical, which saw hundreds of members of the public invest in the new musical through individual investments of up to £5,000.