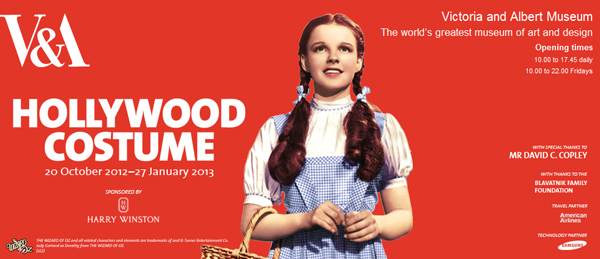 The Victoria and Albert Museum's major autumn 2012 exhibition, Hollywood Costume, is set to be a fabulous and incredibly insightful event. The landmark show will open after five years of sourcing and identifying items to be part of the treasure trove of exhibits.
During the Golden Age of Hollywood (from the 1930s to 1950s), costumes would be removed to vast costume storage once the filming was complete and were subsequently rented, remade and re-styled for new productions, rather than maintain their significance for the original production they were intended for. When the Hollywood studio system declined in the 1960s and 1970s, costume archives were sold making the curator's job for the V&A exhibition even more challenging. However, some iconic costumes have been tracked down for showcasing with even some private collectors loaning their treasures to the exhibition for the general public to see up close.
The earliest costume in the exhibition is from the first MGM sound film, The Broadway Melody, which was released in 1929, winning the Academy Award for Best Picture and the film was followed by many successful sequels. The costume displayed was worn by Bessie Love as one of the Mahoney sisters as a vaudeville act, complete with character shoes and shiny show tights. The film A Broadway Melody was a huge catalyst for change in the film industry in the transition between silent films and sound. Another iconic costume on display is the gingham pinafore dress worn by Judy Garland as Dorothy Gale in The Wizard of Oz, having been held in a secure bank vault in London's Fleet Street. One of the pairs of Dorothy's sparkling ruby slippers are in demand for the exhibition, having taken on mythic status since 1970 when MGM sold a pair for $15,000, and it is unclear how many shoes remain in existence.
Other costumes which will be creating the sum of the V&A exhibition include those from Vertigo (1958), The Birds (1963), the mink and sequined dress designed for toe-tapping Ginger Rogers in Lady in the Dark (1944), Hello Dolly! (1969), Saturday Night Fever (1977) and Moulin Rouge! (2001), along with the musical Chicago complete with stylised black costumes, such as Renée Zellweger's floor-length gown for her performance of Nowadays.
For more information about this exhibition, visit the V&A website.
Image courtesy of the Victoria & Albert Museum.