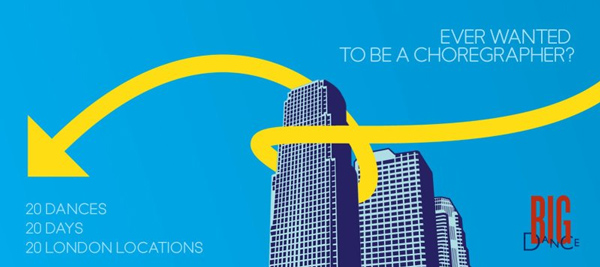 The Dance WE Made, presented by Big Dance 2012 and Sadler's Wells, is a unique interactive pop-up dance project taking place at locations across London throughout June and July 2012, as part of the London 2012 Cultural Olympiad's Big Dance programme. The project will be staged at 20 iconic London landmarks over a 20 day period, in which members of the public will be invited to devise some of their own original choreography – leotards, sweat bands and leg warmers optional!
The Dance WE Made is being produced in collaboration with professional dancer and choreographer Tim Casson who studied at the BRIT school and Bird College, before joining the Jasmin Vardimon Company as an apprentice through London Contemporary Dance School. Casson became a full member of the company after a year of work, going on to complete his MA in Contemporary Dance and adding a wealth of commercial and contemporary experience to his already over-flowing CV.
For The Dance WE Made, each London location will see four to eight people have the chance to work with Casson resulting in the creation of a unique two minute dance piece, requiring no previous dance or choreographic experience from participants. Whether you tend to sport dancewear, jazz sneakers, or just everyday clothes, The Dance WE Made is the opportunity to discuss creative ideas, creating movement from boundless inspiration and see your piece performed and showcased by Casson in each location, which will be filmed and posted online on www.thedancewemade.co.uk and other social networking and video sharing websites.
Each of the two minute segments will be combined to create a single dance solo for Casson, which will set a new world record for the largest number of choreographers contributing to a single dance work. Being part of the creative process looks set to be challenging but completely rewarding, creating the extraordinary from the ordinary.
The Dance WE Made London Tour dates – full tour schedule to be announced:
3 Jun 2012 New River Festival – Enfield
11 Jun 2012 Spitalfields Market
13 Jun 2012 Exmouth Market
14 Jun 2012 Brixton Village
20 Jun 2012 Peter's Hill for The Millennium Bridge
21 Jun 2012 Barbican Lakeside Terrace
27 Jun 2012 Camden Market
8 Jul 2012 The Scoop
10 Jul 2012 Covent Garden Piazza
Promotional Trailer