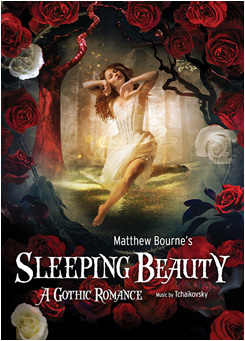 Matthew Bourne's Sleeping Beauty, which completed his Tchaikovsky trilogy of the composer's ballet masterworks, is preparing for a run in New York City in autumn following a hugely successful London season and UK tour. The trio began in 1992 with Nutcracker!, continuing in 1995 with his international hit Swan Lake.
Bourne's acclaimed reimagining of the iconic classical ballet production will run during October and November at the New York City Center, and will be the company's New York premiere of Sleeping Beauty. This is following Bourne's Swan Lake also hitting the City in 2010 after its first visit in 1998 when the production played on Broadway and won three Tony Awards.
The original production of tutus and tights, The Sleeping Beauty, was choreographed in 1890 by Marius Petipa, inspired by Charles Perrault's fairytale about a young girl cursed to sleep for 100 years. As a result, The Sleeping Beauty, Swan Lake and The Nutcracker were all re-imagined by Bourne in terms of choreography, set, and interpretation, expanding audiences and combining classic stories with contemporary and theatrical dance.
For Sleeping Beauty, Bourne sets his production in the original year of 1890, setting the christening of the central protagonist Princess Aurora at the height of the fin de siècle period, full of fairies, decadence and vampires which fed into the gothic imagination of the era. The narrative then moves forward into the Edwardian era of with Aurora's coming of age, and into the modern day with her waking after a century-long sleep.
Bourne's production of Sleeping Beauty was the fulfilment of a great ambition in order to celebrate the 25th anniversary of Bourne's company New Adventures in 2012, and also to complete his choreographing of three great Tchaikovsky ballets.