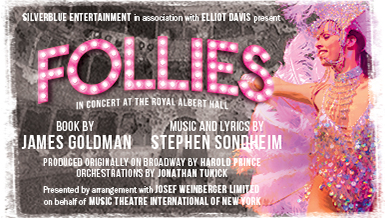 Christine Baranski, Russell Watson and Ruthie Henshall are set to star in a concert production of Stephen Sondheim's musical Follies at the Royal Albert Hall on 28 April. Directed by Craig Revel Horwood, with choreography by Andrew Wright, the music for the production will be performed by the City of London Philharmonic Orchestra.
The Follies musical, performed in the West End in 1987, reached London after successful stage productions across the US, including in Manhattan, Los Angeles, Michigan, Texas, Washington and Massachusetts. Follies went on to experience a world-wide theatre revival between 2001 and 2013, where it was then performed at the Toulon Opera House in France.
The musical has its historical roots in 19th century Parisian musical theatre. Follies first hit Broadway in 1971 and enjoyed 522 performances across New York. Written by Sondheim, one of America's most renowned musical theatre composers, Follies benefitted from Sondheim's huge musical talent. Oscar Hammerstein II became a surrogate mentor to Sondheim, who was rapidly enchanted with musical theatre. The inspiration for Follies came from reading a New York Times article about showgirls from the real-life Ziegfeld Follies and their lives.
A story was created focusing on two ex-showgirls who attend a reunion act for the Weismann Follies. Based on the Ziegfeld Follies, which entertained America in the roaring 20s, the story tells us how showgirls performing in the US became celebrities very quickly. Despite this, fame was fickle, and short-lived for most.
Follies has been just as much a success recently as it was in the 1970s. It has thematic implications for feminism and women's emancipation, which first struck a chord with the American political classes. The narrative focuses on the culture behind making stars of people overnight, and the fascination with celebrity life. Unsurprisingly, the musical won seven Tony Awards in 1972, including Best Score for Sondheim.