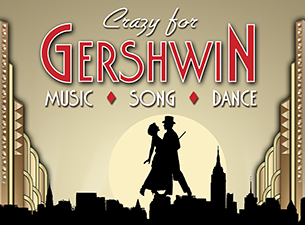 Late April saw the new Crazy for Gershwin tour announced for October and November of this year. It is set to be a celebration of the works of George Gershwin, including classic orchestral compositions alongside a selection of show-stopping numbers, written in collaboration with his lyricist brother, Ira. The pair formed one of the most successful partnerships in the music industry and their music is known worldwide.
The performances from the Gershwin repertoire of music, song and dance will include 'Rhapsody In Blue'; 'I've Got A Crush On You'; 'Someone To Watch Over Me', 'Oh, Lady Be Good!', 'Fascinatin' Rhythm'; 'S'Wonderful'; 'Strike Up The Band'; 'A Foggy Day (In London Town)' and highlights from 'Porgy and Bess' such as 'Summertime' and 'It Ain't Necessarily So'. Performers for the tour then include the London Concert Orchestra: Jonathan Scott on piano, Meeta Raval as soprano, Rodney Earl Clarke as baritone and Richard Balcombe as conductor. The performances will also include a ballroom dancing duet and two tap dancers.
There have been other takes on the Gershwin success in other performances, such as English National Ballet's production of Strictly Gershwin, which was staged in the round at the Royal Albert Hall and then in proscenium arch theatres around the country on the company's tour. The performances included Gershwin hits such as those above, adding a multitude of ballerinas into the mix. There was a ballroom dancing duo here as well as some of the dancers donning their tap shoes and adding syncopated rhythm to their performances.
Dates and venues of the Crazy for Gershwin tour are yet to be formally announced but when they are the tour looks set to be perfect for any Gershwin or simply musical theatre fan.