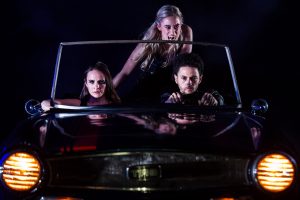 The award-winning MARK BRUCE COMPANY will be touring in 2020 with a brand new production 'RETURN TO HEAVEN', featuring a formidable line-up of dancers.
Winner of the Sky South Bank Arts Award for 'Dracula' and a number of Critics' Circle awards and nominations for various productions, MARK BRUCE COMPANY consistently presents work of infinite mystery and drama to increasing audiences in the UK and abroad. The company's new production, 'RETURN TO HEAVEN', kicks off its 2020 UK tour at the Merlin Theatre in Frome on 30 January 2020.
Drawing on the mythology of Ancient Egypt, two intrepid explorers set off on a journey towards a mythical land where the demons and gods they disturb unleash something within themselves.
The company's Artistic Director, Mark Bruce, is inspired by mystery and imagination, by the dark nooks and crannies of human behaviour, myths and legends, music of many eras and physical expression. Bruce employs a unique choreographic language, distinctive imagery and eclectic musical scores for every production which are further lauded for their filmic quality.
Mark Bruce has choreographed, directed and danced internationally for over 25 years, working with Rosas, Bern Ballet, Ballet Black, Introdans, Igloo, Probe, and DJazzex among others.
—
Return to Heaven – is it a 'return' and what's it about?
It's the story of an obscure expedition into the darkness of a jungle led by two explorers seemingly pursuing only a feeling that something awaits them, something they need to uncover. The tale is non-linear and told in a series of flashbacks. Like music, dance theatre can transcend narrative; it doesn't need to be followed…it can be 'felt' and is open to interpretation. The characters, places and events the explorers encounter are a juxtaposition of associated visions – contemporary metaphors alongside ancient mythology and ritual that reveal what resides within their own nature. It's where they meet their demons; creatures they must be reconciled with if there is to be progression, redemption and hope.
The use of the word 'return' is also a reference to the journey the protagonists take to their beginnings – universal legacies that lay inside of them. In terms of what it is about – it is about many, many things and the more I work on it the more I see. It references Ancient Egyptian mythology – but spirals – and the point is – is allowed to spiral, in all kinds of directions. It references many eras, styles and mediums. It is concerned with the relationships, companionship between individuals but the big picture of everything as a whole. As always it is very filmic. I find cross references of themes in everything and find ways to connect them. I have allowed myself a lot of freedom so I can push myself and the ability the medium of dance theatre has to communicate beyond words – as music, or visual mediums can.
What inspired you to make Return to Heaven?
It's always a combination of everything – in realising and developing ideas for work one finds all sorts of things that have influenced the creative process. The dancers I am working with have definitely inspired the characters, the narrative and the dance vocabulary.
What made you decide not to go with another classic tale following the production of Dracula, The Odyssey, and Macbeth?
I always knew I would return to making my own work; it's less limiting. I'm inspired by artists who have pushed their mediums beyond the normal boundaries through the making of individually unique work. David Bowie's album Blackstar provoked me to get back to rooting around in my mind, pushing myself and digging stuff out – things that are pretty off the wall in their raw state, and crafting something from them. It's a vulnerable place to be because I am working beyond myself. But this is the place to be. Films like David Lynch's Lost Highway or Mulholland Drive cannot be created without trusting and believing an artist has to venture into the dark to find things they cannot always explain in rational terms but touches the collective subconscious. It is important to be doing this now – we live in a very prosaic time; we don't spend enough time exploring deeper things. The work of artists such as Bowie and Lynch are benchmarks.
What should audiences expect when seeing Return to Heaven?
They should be entertained and touched emotionally. It should be strong visually, the dancing visceral, and with powerful performances. They should be infiltrated emotionally. It should get inside them, touch them and make them feel rather than think.