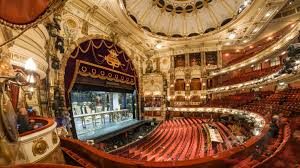 As part of its 70th anniversary season, English National Ballet will celebrate its history with three specially curated gala performances at the London Coliseum on 17 and 18 January 2020.
The gala performances celebrate the dancers, choreographers, artists, musicians, artisans, technicians and audience members who, over the Company's 70 years, have been part of the English National Ballet family. Showcasing the world-class talent of the entire Company, alongside the future stars of the ballet world from English National Ballet School, the programme includes some of the most important and groundbreaking works that make up English National Ballet's repertoire.
Using archive footage of English National Ballet, Dominic Best, who directed BBC documentaries Good Swan, Bad Swan: Dancing Swan Lake and Giselle: Belle of the Ballet, will create a special film which will dissolve into live performance on stage. The programme features extracts from works which have not been recently performed by the Company, including George Balanchine's Apollo, John Cranko's Onegin, Roland Petit's Carmen, Léonide Massine's Farruca (3-Cornered Hat), Christopher Bruce's Swansong, and Ben Stevenson's Three Preludes. These will be performed alongside excerpts of some of the Company's modern productions including Dust by Akram Khan, Broken Wings by Annabelle Lopez Ochoa, and Playlist (Track 2) by William Forsythe. The gala performances conclude with a nod to English National Ballet's early years, with a performance of one of its signature pieces, Etudes by Harald Lander, first performed by the Company in 1955.
Elsewhere in this special anniversary season, English National Ballet will give away 70 tickets during each run in every city it tours to, celebrating and thanking its touring communities. Working with its partner venues and community groups, these tickets will be distributed to individuals who are making a positive impact in their community. To thank its audiences and fans, English National Ballet will also give a 'Golden Ticket' for a special English National Ballet experience to one audience member per performance throughout the season. Opportunities will include behind-the-scenes tours, complimentary tickets and programmes, and meet and greets.