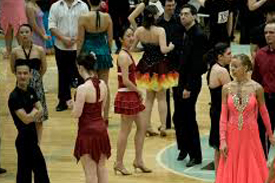 The Eurogames Roma 2019 saw a Same-Sex Ballroom & Latin dance competition head to Italy for the first time, and it welcomed dancers from as far afield as the USA. There is now an exciting three years ahead with the European Championships scheduled for Düsseldorf (2020), Copenhagen (2021) and Nijmegen (2022), as well as the very first Same-Sex Dance World Championship in Asia in 2022.
It gained national media attention when well-known Italian celebrity, Giovanni Ciacci danced in a Same-Sex dance partnership as part of Italy's TV dance programme, 'Ballando Con Le Stelle' in 2018 with professional dancer, Raimondo Todaro. The couple made it to the final despite controversy amongst some members of the judging panel. It is hoped by some that 2019 is the year that audiences will see this on the UK's Strictly Come Dancing. With many amateur competitions seeing same-sex couples dance in teacher-pupil categories, it seems only natural to include this as dancers progress through the levels.
From the same-sex competition point of view, what was most apparent was the strong support and collaboration seen from members backing the Italian event. Despite Eurogames Roma not holding the status of a European Championship, this did not deter those who really wanted to take part in the Eurogames to compete against the Same-Sex dance community. The UKSSDC was represented by 30 dancers in total, collectively taking part in the Men's and Women's Ballroom and Latin competitions as well as entering a Showdance Couple, a Showdance Team (Pink Dancers) and multiple entries into the Salsa 'fun competition'. The final medal tally reached five Gold, six Silver and fourteen Bronze medals.
There is much anticipation for the next prestigious Championships in the calendar, where it is hoped there will be even more encouragement for everyone to achieve their best, seeing dance communities come together irrespective of where they have come from, and what has brought them to a particular competition.