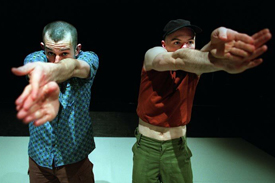 DanceXchange, the Birmingham-based dance house, is launching two new programmes aimed at nurturing original work from the next generation of choreographic talent. The new artists' development strategy is designed to ensure the city becomes a leading hub for innovative ideas and will tackle the issue of how to support increasing numbers of choreographers engaging with DanceXchange who have differing levels of experience.
These ambitious new programmes will see DanceXchange work to support artists in a more substantial way, by building on the success of its established Choreography Award programme. This particular programme is designed for artists in the early stage in their choreographic career, by providing development opportunities for artists whose levels of experience lie either side of its parameters.
Launched recently is Choreolab which will offer three very early stage artists a two-week facilitated residency and mentoring by an established artist. For the first edition, beginning in January 2020, Lea Anderson will be the mentor and all three artists will be in residence at the same time, creating a community with space for dialogue, learning and reflection, and the opportunity to share their work. Places are offered nationally, though priority will be given to Midlands-based artists.
DanceXchange is also launching a new Artists in Residence programme which will continue to develop its support for choreographers who are further advanced in their careers. Up to five artists, who are successfully established in their career but need support to take a larger step, will be offered residencies which include up to six weeks of studio and production space plus mentoring from team members. They will also receive financial support for each week of their residency. Applications are encouraged from artists based regionally and nationally, who have the potential to be programmed within DanceXchange's performance programmes and the Birmingham International Dance Festival.
This new three-tiered approach to artist development will bring huge benefits to choreographers, artists and audiences in Birmingham and beyond, with the potential for some artists to engage with all three stages over the coming years with increased links across dance communities.
Applications close on 2 September.