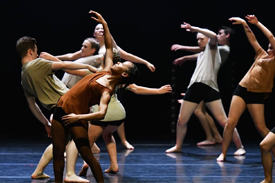 There is just one month to go before the youth dance event of the year. U.Dance 2019, the national youth dance festival presented by One Dance UK in partnership with the ISTD, touches down at London's Southbank Centre on 20-21 July. It offers a variety of youth dance performances and workshops and a range of ways to participate and get dancing, as well as the opportunity to watch tomorrow's dance talent from around the UK take to the stage.
From the regional platforms to the festival itself, U.Dance engages with more than 3,000 young dancers, encouraging them in the pursuit of excellence in dance and embarking on careers in dance, highlighting one of One Dance UK's key aspirations – to raise the profile of dance teaching and practice in all its diverse forms. The different U.Dance events offer the opportunity for young dancers to celebrate their achievements together through a festival full of passion, energy and ambition.
The weekend programme is set to inspire and enthuse any young people who love dance and includes the following events.
U.Dance Pop-Up Performances
Young dancers from across London and the surrounding areas will showcase their talents in a free early-evening performance, in a range of dance styles.
U.Dance National Showcase
Witness the best young dance talent from across the UK. Selected from hundreds of entrants, the youth dance groups showcase the talent of the next generation of young dancers. Enjoy dance styles including contemporary, hip-hop and South Asian Dance from groups drawn from school dance groups, youth dance companies, private dance schools and Centres for Advanced Training.
Young Creatives Showcase
The choreographers of tomorrow present imaginative new works, the culmination of the One Dance UK Young Creatives programme. Young Creatives is a mentorship scheme that fosters the development of young choreographers working in any dance style. The choreographers and their dancers have been on a journey to develop their ideas and vision, partnering with a choreographic mentor.