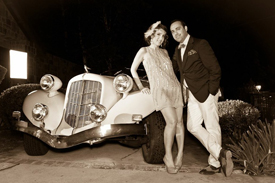 The immersive show The Great Gatsby is taking its audiences by storm, and there is still opportunity to get involved in what is a spectacular theatrical event. As the longest-running immersive theatre show in the UK, The Great Gatsby thrills its audiences as they get the chance to spend an evening with Mr Gatsby and his guests. 1920s dress is encouraged (but not compulsory), meaning audiences are free to join a whole party of 'flappers' as they sip a cocktail in one of Mr Gatsby's bars.
The Great Gatsby immersive show allows you to explore Mr Gatsby's famous parties, giving audiences the opportunity to follow their favourite characters, including cousins Nick Carraway and Daisy Buchanan, on their adventures into different rooms and spaces, or even to speak with the illusive Mr Gatsby himself. It is clear that audiences only need to interact as much as they are comfortable – if they prefer to observe from the side-lines, that is completely acceptable – just like Gatsby does.
The Great Gatsby started its journey with a sold out run at VAULT Festival 2017 and has been going ever since, making it the most successful and longest-running immersive production in UK history. The environment is designed to deliver an all-encompassing experience for audiences so it is truly immersive and feels very real. Audiences will feel like they have been transported to Long Island in the roaring 1920s, jazz-age America, and are a guest at one of Mr Gatsby's famous parties, where the drama will unfold.
It is unique in that every version of the show is different; there are many different journeys – and outcomes – that audiences can take in The Great Gatsby, meaning that you can attend Mr Gatsby's party multiple times and have a completely different experience each time. Audiences can even learn the Charleston, the famous dance from the 1920s. It is named after a famous song that was in turn inspired by the distinctive rhythm of music played by dockworkers in Charleston, South Carolina.