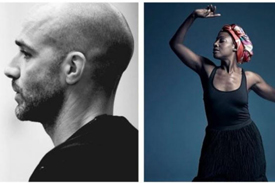 Entering its eighth year, National Youth Dance Company, the country's flagship company for young dancers run by Sadler's Wells, appointed its next two Guest Artistic Directors: Russell Maliphant in 2019/20 and Alesandra Seutin in 2020/21.
NYDC has begun its search for the next intake of 30 young dancers to join the company and work with its newly appointed Guest Artistic Director, Sadler's Wells Associate Artist Maliphant, to begin creating a new commission in the autumn. NYDC workshops are taking place until 8 July to find the next cohort.
Maliphant established his own dance company in 1996 as the framework to create productions and work with his own ensemble of dancers. Maliphant's work has also been performed by dance artists including Sylvie Guillem, BalletBoyz, Munich Ballet and English National Ballet, for whom his piece Second Breath was part of the critically celebrated programme Lest We Forget. Two graduates of NYDC, Edd Arnold and Folu Odimayo, make up part of the Russell Maliphant Dance Company and can be seen performing in Silent Lines at Sadler's Wells, on 18 & 19 October.
International performer, choreographer and teacher Alesandra Seutin studied dance internationally and continued her training at the École des Sables (Senegal). Working in a variety of fields, Seutin is also a movement director, dramaturge, teacher and performer, performing for several noted artists including Johnathan Burrows, Germaine Acogny and Rafael Bonachela. Seutin founded Vocab Dance in 2007 and has progressively built an international reputation for creating thought-provoking and visually striking performances. Her creativity is triggered by issues that address and reflect socio-political issues, and with movement, voice and music, she shares stories to encourage conversation.