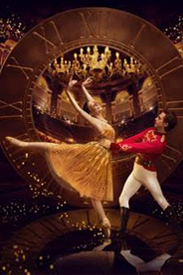 This summer, English National Ballet will perform a new in-the-round version of multi award winning choreographer, Christopher Wheeldon's Cinderella, at the Royal Albert Hall in London. Running from 6-16 June, this spectacle will delight audiences young and old as the company presents the popular performance again.
Co-produced by English National Ballet and the Royal Albert Hall, Wheeldon's inventive production features over 90 dancers and combines magnificent sets and costumes, theatrical surprises, and lively choreography set to Sergei Prokofiev's famous score performed by English National Ballet Philharmonic, in what promises to be the ballet spectacular of 2019. The company is busy preparing for its move to East from West London, still aiming to present the widest possible ballet experience to as many people as possible.
Working from the darkly intriguing Brothers Grimm version of the story, Wheeldon originally created his production of Cinderella to great acclaim for Dutch National Ballet and San Francisco Ballet: he and his creative team now reunite for the re-staging of this sparkling ballet for one of the country's leading ballet companies. The production includes striking set design by Julian Crouch – founder of the influential theatre company, Improbable – puppetry from Basil Twist (whose credits include Charlie and the Chocolate Factory) and projection from Daniel Brodie.
English National Ballet has presented grand-scale in-the-round productions at the Royal Albert Hall since 1997, including Swan Lake – with its record-breaking 60 swans made up company and non-company dancers alike – and re-workings of Romeo & Juliet and Sleeping Beauty. The performance of Wheeldon's Cinderella will be no different, waiting to delight its audiences in the magnificent stage of the Royal Albert Hall.