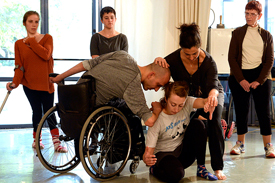 Candoco Dance Company is teaming up with fashion site ASOS to deliver a residential dance training intensive for young dancers in summer 2019. With ASOS' assistance, this partnership will enable Candoco Dance Company to offer dancers aged 18-30 an opportunity to develop their physical skills and creative potential in an inclusive environment, free of charge.
The training intensive will run for two weeks and give disabled and non-disabled dancers from diverse backgrounds a route into the dance profession, by working with Candoco's team of professional dancers and leading choreographers. This generous opportunity is the first of its kind, demonstrating the developing popularity of the dance company. The news follows Candoco's appearance as the first contemporary dance company to guest on Strictly Come Dancing, which was seen by millions around the world.
Building on the company's well-established learning and development programme and ASOS's reach with audiences in their 20s, ASOS and Candoco hope to support creative ambition in disabled and non-disabled young people. As part of ASOS' corporate responsibility, it believes that every young person, no matter their background, should be given the chance to reach their full potential. To this end, it's work with Candoco means it is able to further support such an inclusive approach to creative expression.
From Candoco's perspective, there is so much physical talent and artistic potential among young disabled and non-disabled adults, and a huge demand for wider representation in the dance sector. Despite this, there is just not enough access to training or routes into the profession. This partnership with ASOS will enable Candoco to use its vast expertise in inclusive dance practice to provide an unparalleled learning opportunity for these young artists.