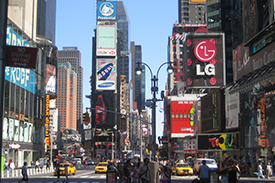 New York's H+ | The Hip-Hop Dance Conservatory, maintains that one in every three dancers in New York City lives under the poverty line, and may lack the resources to purchase the ingredients they need to make nutritious meals. This is in addition to the fact that dancers are busy, and often running around from class to rehearsal to performance to other work. We know that fuelling the body with healthy food is essential to dancing as best as possible, so this is often a problem.
To that end, H+ is now giving out free groceries to dancers through their monthly DanceMart programme; since the programme was founded in 2015 it has given out $1.3 million worth of groceries to over 7,500 dancers. The programme was created to help professional and pre-professional dancers supplement their groceries, but anyone who identifies as a dancer – in any genre – can attend DanceMart and benefit from the initiative.
At DanceMart, dancers travel through several 'stations', including one where they can receive free dinner, and a cooking station, where they can learn to make a healthy meal that costs under $10 and takes less than 15 minutes. Participants are able to try their hand at cooking the dishes, and can take the recipe and the majority of the ingredients they'll need to make it. Simply put it is to re-educate dancers – that cooking does not have to be time consuming and ingredients do not have to be expensive.
DanceMart hopes to expand to other major dance hubs, like Chicago, Los Angeles and the Bay Area of the US, and become a weekly programme in New York to help even more dancers.