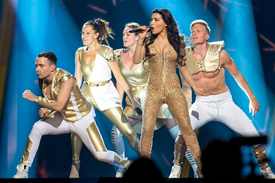 An event as eclectic as Eurovision is tricky to predict, however certain factors of the competition could help audiences make a decision between one country and another. Recently Dance Direct analysed which factors appear in winning performances to understand what goes into the ideal Eurovision Song Contest combination.
There is no denying that Eurovision has produced some memorable acts over the years, whether you love Eurovision or hate it! From the legendary introduction of Sweden's ABBA in 1974 to the groundbreaking victory of Austria's Conchita Wurst in 2014, the competition is full of chart-toppers and jaw-droppers alike. To this end, it is likely that the results are not as random as they seem, and the combination of certain elements make for a winning performance.
Dance Direct analysed data from 2012 onwards, looking at aspects such as gender, dance-ability, and language to predict who will be this year's winner. Read on to learn more about what goes into an award-worthy Eurovision performance.
When choosing a language to perform in, Eurovision has one of the most diverse collections out of any competition – and it doesn't even necessarily need to be a real dialect. Belgian group Urban Trad came second in 2003 with their song "Sanomi," which was written in an imaginary language and earned them 165 points. The majority of acts choose to sing in English, or English and a mix of their native tongue. However, there's always an element of unpredictability in terms of what people prefer to listen to – for example, singing in Serbian has historically scored higher than Italian. And it's not just about the songs – in fact, some of the most celebrated (or commiserated) Eurovision moments have involved the dance and choreography element.
Having a great song and a meticulous performance on the night is extremely important – but the Eurovision winner must also be able to win audiences (and voters) over with their charm and star quality.