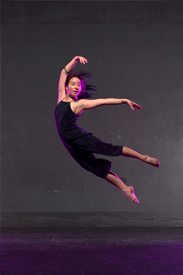 This Spring the UK's original graduate dance company – Transitions Dance Company – embarks on a tour of UK and European venues with a newly commissioned triple bill from choreographers Karole Armitage, Hetain Patel and Marina Collard. The three works From Dirt To Soil (Karole Armitage), many much, many much too many (Marina Collard) and You Tube Made Me (Hetain Patel) range from graceful precision to the wry and mischievous in a programme that showcases this year's superb company of international dance artists.
Founded in 1982 by Bonnie Bird, Transitions Dance Company – whose alumni include Sir Matthew Bourne, Luca Silvestrini and Emma Gladstone – was the first of its kind to provide a gateway between dance training and professional performance. Its subsequent success over the last 37 years has inspired the creation of numerous graduate dance companies across the country, allowing student dancers to gain practical experience of life in a touring dance company whilst simultaneously completing their professional training.
Here Jasmine of Transitions talks about her training and her journey through dance.
Have you always wanted to be on stage?
I have always loved performing, but I haven't always wanted to perform as a professional dancer. Growing up I loved all the performing arts: I was in a choir, I played the harp, I was in plays and musicals all through school and often did summer intensives at Leicestershire Arts in Education (which sadly doesn't exist anymore). I always thought I'd do acting, actually!
The reality is that there have been lots of times where I haven't really known what I wanted to do. I started dancing seriously very late on – I was 21 when my official training began. Sometimes I get frustrated with myself for not realising that I wanted to be a dancer sooner, but the experiences I've had along the way (doing different jobs, going to university, travelling, working abroad) have shaped my approach to dancing now – I really understand and appreciate how lucky I've been to have all that and still be in Transitions Dance Company at Trinity Laban and pursuing a professional dance career.
Where did you train, and what was it like?
When I finished my A levels I wanted to go to university, so I went to the University of Sheffield and graduated in 2014 with a BA in English Literature. While studying there I was in the Sheffield Dance Society and SUPAS (Sheffield University Performing Arts Society). Although this wasn't formal training, I learned a lot from the people I met and worked with, which has helped me develop as an artist, not just my dance technique.
After Sheffield, I moved back home to Leicester so that I could do a two-year foundation degree in dance at Leicester College. This was the first time I had devoted so much time to dance and the first time I did a ballet class. I had inspiring, passionate teachers and lecturers and my dance technique and personal practice transformed.
Describe a day in your life now.
During the week I'm either training, rehearsing, travelling or performing with Transitions. When I'm not away touring, I have quite a run-of-the-mill morning routine to be honest – the only differences are that I sometimes write in the morning for 25 minutes as part of my research project, foam roll and warm-up in the studio to prepare for company class.
We always start the day with dance class together. We have a variety of excellent teachers on a rotational basis – we alternate between somatic release technique, Limón release technique, Cunningham and ballet. Then for the rest of the day we'll rehearse our touring pieces or do group improvisations and workshops with our artistic director, David Waring.
When we're touring for such a long period of time it's important to maintain the integrity of our repertory work and, simultaneously, to identify areas for challenge and development that will allow the pieces to evolve and grow. After we finish for the day, I go to the gym and then spend the rest of the evening cooking, doing bits and bobs of work (everyone in Transitions is also doing an MA or MFA in Dance Performance) and catching up with my family and friends.
How important is your training in your work today?
Apart from preparing me physically for the work I'm doing now, my training also helped to prepare me mentally for life as a touring dancer. It has taught me patience, how to be healthy, how to look after my body and the importance of rest.
What has been the defining moment of your career?
In February 2014, someone dropped out of the solo category in the Sheffield Dance Competition and I volunteered to fill their place. I had less than a week to choreograph a solo that would be performed in front of hundreds of people, including loads of amazing dancers, and also be judged. It was the first time I had ever done something like this.
By this point I'd realised that I wanted to be a dancer, so I challenged myself. I remember saying to myself "if you can't perform alone in front of people then how do you think you'll ever be a professional dancer?" Anyway I made a solo to a Bastille song, all my friends came to cheer me on and I won the solo category…I put this down as the defining moment of my career so far purely because it was the first time I'd danced on my own and the response I got was so warm and encouraging that it really helped with my confidence.
What has been the most challenging?
I was really struggling with an old wrist injury. It had been on and off for about four years and when I started Transitions last year it was going through a bad patch – to the point where I couldn't put any body weight on it or even lift everyday objects. Obviously this was not only painful and uncomfortable but also extremely disheartening, especially as it was affecting my life outside of dance. I was so worried that I wasn't going to be able to make the most of my time at Trinity Laban. I underwent both acupuncture and acupressure from the Trinity Laban health department (with Kevin Grey). After four sessions and a few weeks of rest over Christmas, my pain had gone and I could start strengthening exercises again. I think injury is something that most dancers deal with and for me it has definitely been one of the hardest periods of life as a dancer.
What's the most rewarding thing about the performing arts in general?
I've encountered so much kindness, openness and generosity in the performing arts. Most recently at Trinity Laban, of course, but also in many other organisations I've worked in and especially in the field of community dance. I've had the pleasure of working with inspiring artists, teachers and also a lot of amazing people that work in more 'behind the scenes' roles in arts institutions. The performing arts have a wealth of joy to share and it is amazing to see how audiences react to a performance. We tour the same three pieces and the audience response at one venue can be the polar opposite of the response at the next venue. The arts can really engage, influence and inspire people from all different backgrounds and this is why I feel very privileged to be a part of it.
What's the worst thing?
There are challenges, of course, like in any profession, but it's hard to single out anything really that bad! I think one of the main challenges is finding more ways to talk about the value of the performing arts so that more people realise how crucial they are to culture and society.
Do you have any pre-show rituals?
Before every show I write for 25 minutes. This may sound like an unusual preparation for a dancer but it focuses my mind, allows me to connect to my thoughts and to be calm in the run-up to a show. I used to struggle with performance anxiety and I find that this can alleviate it. The writing I do is called Proprioceptive Writing, created and founded by Linda Metcalf and Tobin Simon, which aims to encourage the writer to explore their thoughts and clarify what they mean by certain 'loaded' words. For my final MA project I am investigating whether Proprioceptive Writing can help dancers to deepen an awareness of their thoughts in the same way that they have developed an acute proprioceptive sense of their bodies.
What are you most enjoying about the tour?
The tour gives me so many opportunities to grow as a performer and to grow in my understanding of performance. We are encouraged to take risks in our performance, to try different approaches to the material or delivery and to find room for experimentation and surprise. The risks don't always necessarily 'work' but that's not such a terrible thing – without the risks, the challenge and spontaneity could fade and then we're not really proposing any discoveries about performance, we're just executing it. So, now that we know the pieces so well, it's all about keeping it alive. I love the trajectory of the work so far and how every member of the company has grown within the pieces we're touring. Touring is also just a lot of fun – sharing the experience of travelling and performing with a great group of friends.
Who or what inspires you everyday?
Kindness really inspires me. My family, my friends.
What is your advice to an aspiring dancer?
The same advice I try to give myself all the time! Try not to compare yourself to other dancers if it's making you sad or doubt your own value. If you do compare yourself to someone next to you, ask yourself why and then just ask them for help. People are usually really happy to help you and often you find that they've been wanting to ask you something too.
What's next for you?
Well, the tour with Transitions will finish in June and then I'll submit my MA project in late September. After this I'll keep dancing but I'm not sure exactly where I'll be doing it!
Upcoming Transitions tour dates
14th May
University of Chichester
To book tickets, please email s.francis@chi.ac.uk
29th May
The Albany Theatre 19:30
albanytheatre.co.uk
5th, 6th, 7th June
Laban Theatre
www.trinitylaban.ac.uk/whats-on